32 dishes and 7 weeks later, I've reached the end of my challenge!
The season is almost over here in Bristol and my husband, family and friends now groan at the sight or mere mention of wild garlic so it's time to call it a day.
There are recipes, like wild garlic pasta, a rabbit and cider pie topped with wild garlic pastry and confit salmon with wild garlic puree, that I didn't get chance to test before the garlic was past its best but I'll save those for next season!
As we munched our way through handful after handful of the tasty leaves, it didn't take long to deduce that not only can wild garlic be used in just about any dish (although I drew the line at desserts!) but also that, above all, wild garlic has an affinity with eggs, potatoes, mushrooms, cheese and peas. They were the ingredients which really suited the flavour of the wild garlic and let it shine.
There were several highlights throughout the challenge (wild garlic and cheese twice baked soufflé, mushroom and parmesan stuffed chicken breast wrapped in wild garlic and prosciutto, wild garlic mash, wild garlic and chive scones, beetroot, feta and wild garlic sandwich and wild garlic paneer to name a few) but without doubt the best dish was so embarrassingly simple; scrambled eggs with wild garlic on seeded wholemeal toast.
But what of this week's challenge?
Wild garlic, pea, courgette and stilton frittata. I couldn't finish the challenge without making a frittata and as I'd already established that eggs, cheese and peas are the best matches for wild garlic, my frittata had to combine these in some way. This week of the challenge coincided with National Stilton Week so my frittata combined the sharp cheese with the sweetness of peas and courgette and the mellow flavour of the cooked wild garlic.
New potato salad with a wild garlic, parsley and cider vinegar dressing. This potato salad (I used Cornish new potatoes but you could use Jersey Royals which have just come into season, or any other new potato) went well with a salmon burger and green beans. A simple and satisfying tea.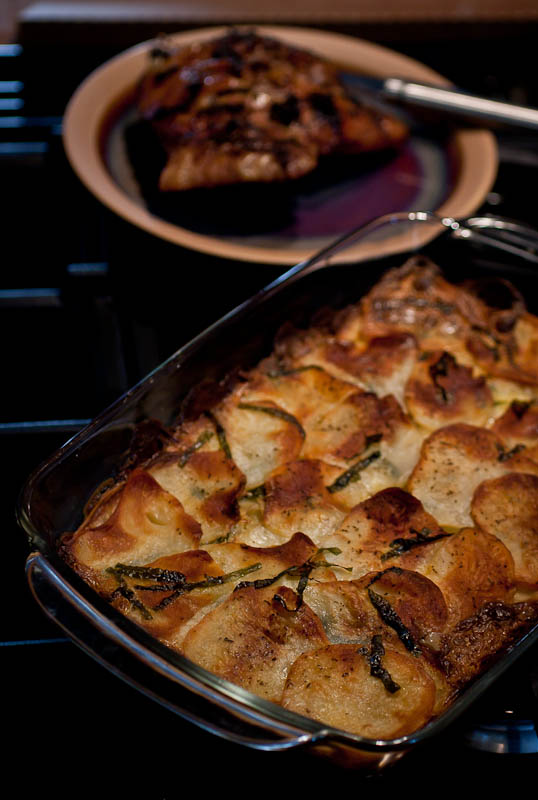 Onion, pea and wild garlic bhajis. There is rarely a week go by that I don't make a curry for dinner. This week I made some tasty bhajis, incorporating wild garlic, to go with alongside a sag gohst.
Roast turkey with wild garlic and tarragon butter and wild garlic dauphinoise. Spot on for Sunday dinner and a wonderful end to the challenge. I slow roasted a turkey thigh as an alternative to a joint – more than enough to feed two of us – basting it in the wild garlic and tarragon butter. Served with the creamy and mildly garlicky dauphinoise and vegetables.