I support you to transform mealtimes from stressful to stress-free.
Did you know that the average person cooks the same six dishes on repeat? Or that UK households waste 4.5m tonnes of food each year, worth £14 billion and equating to £700 a year for an average family with children.
And the top reasons why they're stuck in a rut, that all this food is going to waste and money is being thrown in the bin? 35% of households don't plan their meals, 24% of shoppers don't look in the fridge before they head to the shops and 74% of shoppers don't make a shopping list.
But, beyond these statistics, how much time and energy do you put into thinking about, shopping for, preparing and serving meals? Would you like it to be quicker and easier?
Whether or not you have children, I'll work with you to save money on your food bills, reduce your food waste,  save you time, energy and stress as well as get away from that age-old question of what's for dinner!
And if you have children, from the very young to teenagers, I'll show you how you can prepare meals the whole family will enjoy (no more cooking three different meals at dinner time), how to reduce any food wasted at mealtimes whilst helping you support your fussy eaters to develop a positive relationship with food, increasing the number and variety of foods they'll eat.
My courses
I offer a range of one-to-one courses, small group sessions and workshops as well as online programmes. You'll also find supportive communities in my Facebook groups where I share lots of tips and tricks as well as meal ideas.
Whilst I'm Bristol-based, my online courses mean that you can work me from further afield. I'm also able to offer my one-to-one courses over video call.
Public speaking
I'm available for talks at community, wellbeing, parent support, WI, networking and other groups. Get in touch if you're looking for speakers. My speaker rate is £95/hour.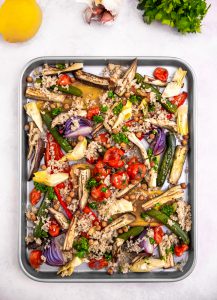 Collaborations
I'm also interested in speaking to dieticians and nutritional therapists, coaches and personal trainers who would like to refer clients or work collaboratively with clients to support with meal planning and making mealtimes easier and more efficient. Or perhaps you are looking to add more recipes to your website. My recipes are the perfect mix of tasty and good for us.
---
Sarah's suggested meal plans were so helpful. It made it so easy to see how and when I can prepare extra for the freezer or how we can use the same ingredients to prepare different dishes. I had never thought about putting a tray bake in the oven ready for me to eat once the children were in bed. The days when I come home late from work and just eat toast are behind me!