I've set myself a challenge: to eat as much wild garlic as possible! Well, strictly speaking my challenge is to try and create a different dish incorporating wild garlic each day until the end it's relatively short season.
The joy of finding, picking and eating wild garlic (also known as ramsons) can only be rivalled by the arrival of forced rhubarb in January or the first of the British asparagus dipped in runny egg yolk and perhaps an early crop of home-grown peas eaten in the garden. Wild garlic is one of the first signs of spring but before long woodlands and canal paths are carpeted with the plant, a forager's dream.
The garlicky bright green leaves are best eaten whilst still young and before the plant has flowered, though the star-shaped flowers are lovely in salads. The leaves can be eaten raw or cooked; made into soups and sauces, added to sandwich fillings and salads or simply used as garnishes. In Cornwall, the leaves are even used to cover cheese; wild garlic yarg is one to get your hands on if you can. Though save some for me!
Wild garlic is not only tasty, it's good for you. Said to be anti-fungal, anti-bacterial and, as with bulb garlic, it's good for your circulation and the immune system. There's nothing to stop you munching on those leaves!
Having found a sustainable and regular supply of wild garlic close to home, I'm now one week into my challenge; the ideas are flowing and the results have been tasty though, at times, pungent!
Glass noodle salad with chicken and shredded wild garlic. Quick and easy for after work, I made my usual noodle salad, this time with leftover roast chicken and a few shredded wild garlic leaves for some extra punch.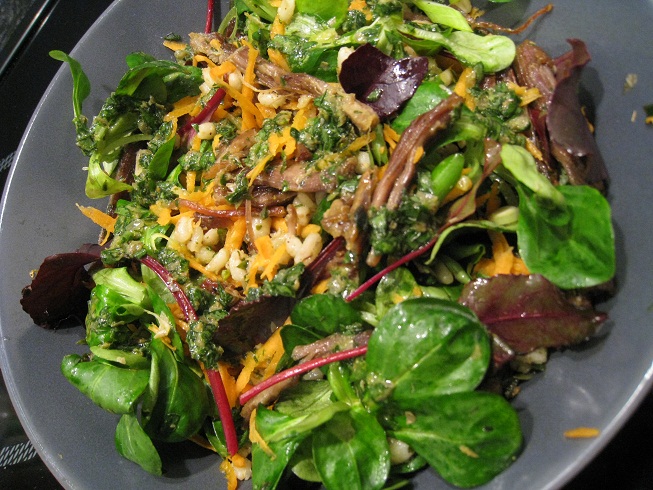 Crispy lamb and barley salad with wild garlic green sauce. There was just me for tea this evening and there were more leftovers to use up. I perked up the leftover breast of lamb and barley with a wild garlic green sauce (salsa verde) and served it on a bed of leaves and grated carrot.
Wild garlic and black pepper cream cheese with smoked ham in a toasted sesame bagel. Nothing fancy but still tasty. Wild garlic made it into my lunchbox today.
Scrambled eggs with wild garlic on seeded wholemeal toast. What a way to start the day! Who needs a caffeine boost in the morning when you've got wild garlic?! I think I might have to go as far as to say these were the best scrambled eggs I've eaten.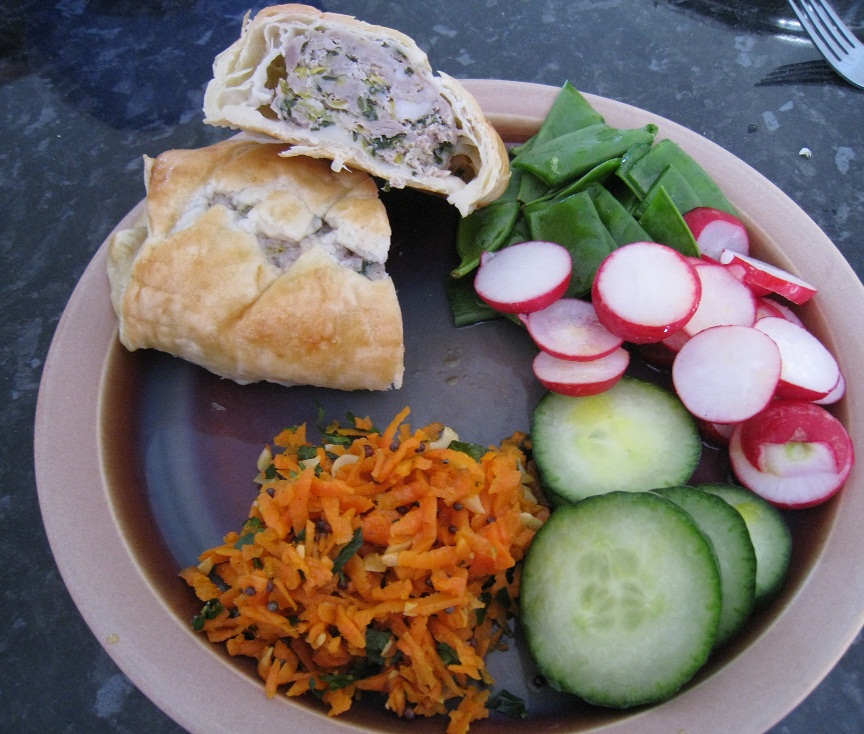 Leek and wild garlic sausage rolls. Delicious, though you might not want to eat these in the office! The wild garlic flavour intensified in the sausage mix and was the most potent of the recipes so far.
Wild garlic and chive scones. Chopped wild garlic and chives were added to a standard cheese scone dough. I garnished them with oven dried wild garlic leaves and simply served them with cream cheese.
Oxtail stoup with wild garlic 'gremolata'. My oxtail turned into a cross between a soup and a stew. After cooking, the rich stoup was given an Italian style lift with a sort of gremolata made with the wild garlic leaves, parsley and lemon zest.
There'll be more vampire-warding, cold-busting and immune-boosting wild garlic delights here next week. Until then, start foraging!