I've struggled this week – not because supplies are running out, far from it, I've got wild garlic coming out my ears; not because I'm running short of ideas, they're still coming thick and fast; but because I sadly haven't had enough time in the kitchen.
I fear the same may be true next week, the week before we move house and much of the kitchen is in boxes. I will soldier on and do my best to at least make a few wild garlic dishes. A girl has got to eat after all!
This is what we've been dining on this week:
Beetroot, feta and wild garlic sandwich. I really like the combination of salty feta and sweet beetroot with a grinding of black pepper, but a couple of wild garlic leaves is what had apparently been missing all this time.
Creamy wild garlic mushrooms on toast. Fried mushrooms, a few shredded wild garlic leaves, black pepper and crème fraiche. Simple. I had mine on toast for lunch but it would work equally well with pasta. Throw some chicken, bacon or ham in too if you want to make it meaty.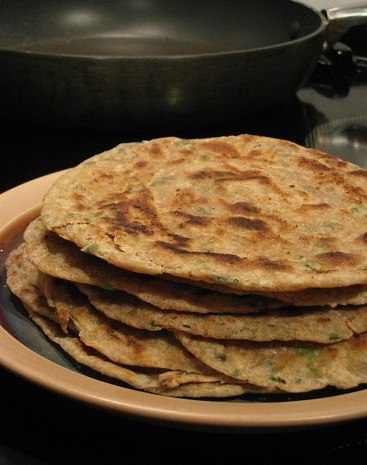 Wild garlic parathas with keema. The star of the week. Making parathas, if a little time-consuming, is quite therapeutic and most definitely worth the effort. I mixed shredded wild garlic leaves into the dough and next time would also try infusing the ghee with wild garlic for added flavour.
Wild garlic bread. Like garlic bread only better and slightly addictive! All the garlic flavour but none of the harshness you sometimes get with garlic bread.
Wild garlic guacamole and wild garlic salsa. Fresh accompaniments to our chilli con carne.
Chicken goujons in wild garlic crumbs with wild garlic coleslaw. Finger food for children and adults alike. You couldn't particularly taste the garlic but it just added a little something very satisfying to the overall flavour of the dish. The wild garlic bread crumbs would work equally well for coating homemade fish fingers.