Week two of my wild garlic challenge is behind me. It's all going well, I'm still bursting with ideas and enthusiasm.
To answer those who've asked, I'm not bored of wild garlic yet and don't worry that I will be. Once the season is over, I've got until next March to recover! I'm making the most of it whilst it's here.
I've also enjoyed the talk on twitter this week about wild garlic, with people sharing their hunting grounds and recipes. There's much interest and excitement out there and some wonderful suggestions too. Follow or join in with #wildgarlic.
In week two, we've been tucking into: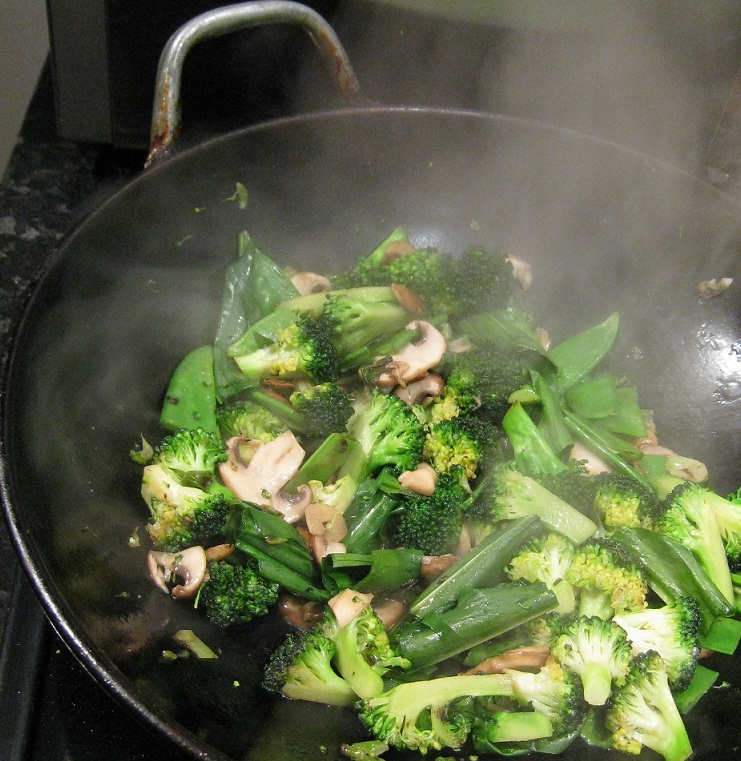 Lemon and ginger salmon with broccoli and wild garlic stir-fry. I used wild garlic leaves in the stir fry in a similar way to any Chinese leaf or spinach, gently wilting it in the heat and soy at the last minute.
Indian carrot salad with wild garlic. We had this salad with a spicy coconut and lamb curry, lemon and cashew nut rice, and tarka dhal. It was based on an Anjum Anand recipe from I Love Curry. The grated carrot is combined with crushed peanuts, lemon juice, coriander, mustard seeds and, in our case, wild garlic.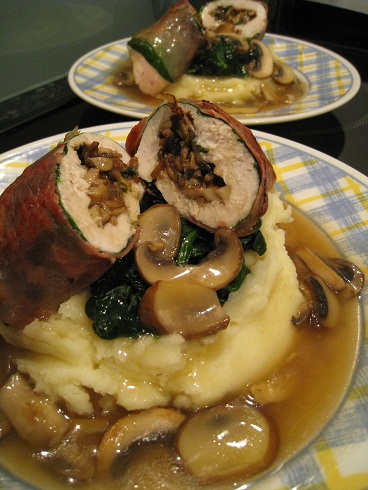 Mushroom and parmesan stuffed chicken breast wrapped in wild garlic and prosciutto. We had the stuffed and wrapped chicken with mash, spinach and mushroom sauce. This would make a simple yet stunning dinner party or special occasion dish.
Wild garlic mash. Wild garlic works incredibly well with mashed potato. Just like the eggs last week, potato and wild garlic have a real affinity with each other. I infused chopped wild garlic leaves in warm milk before adding to the mashed potato. It went really well with our casserole.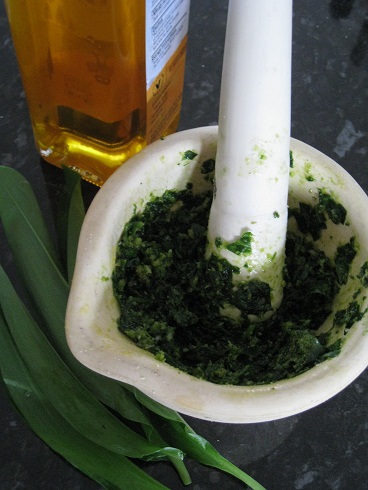 Linguine with wild garlic, hazelnut and rapeseed oil 'pesto'. Wow! Delicious and yet powerful. This was the pungent dish of the week. I liked the idea of making a British 'pesto' by using a British produced oil instead of olive oil as well as hazelnuts rather than pine nuts, whilst the seasonal wild garlic replaced the basil.
Smoked trout pate with wild garlic. This pate is great as a starter, lunch or light supper. I added a hint of horseradish, chives and wild garlic to lift the flavour.
Pea soup with wild garlic jelly, crispy prosciutto, oven dried wild garlic leaf and wild garlic oil. My experimental, Heston Blumenthal-inspired, dish of the week. I got my hands on some agar-agar, a regular in his kitchen, and made a wild garlic jelly. It worked well but needs some refining to improve the flavour. Once perfected I think it could be used with roast chicken, with fish or perhaps even in a terrine. The wild garlic oil was a cracker though and needs no enhancement. Oven drying the wild garlic leaves intensified their flavour and added another texture along with the prosciutto. (Thanks to througheye for the photograph.)