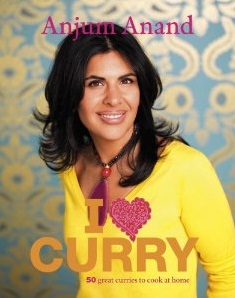 With a number of TV series and now six Indian cookery books under her belt, Anjum Anand is surely doing for this generation what Madhur Jaffrey did for the home cooks and curry lovers of the 80's – making Indian food accessible and adding some spice back into our culinary lives.
Where the first book of hers I owned, Anjum's New Indian, covered curry house favourites and many Indian dishes with a British twist, I Love Curry showcases traditional dishes from regions throughout the subcontinent as well as Anjum's own light and healthy creations.
Anjum explains what makes a curry's flavour unique to its region, shares the secrets of making great curries, helps us understand how to bring spices together and demonstrates how to create an authentic Indian menu no matter what your cooking ability.
The recipes are well written, the ingredients lists manageable and each dish is accompanied by a short introduction – highlighting Anjum's own favourites, describing the region from which the dish originates, offering hints and tips on making the dish your own or providing an overview of how the dish tastes, what to serve it with and how quick or easy it is to make.
The photography really brings the book to life and what is fantastic is that there is a photograph for almost every dish. Cookery book publishers take note – we like and need plenty of photographs!
I Love Curry is a very well-conceived book and one I will be turning to time and time again for quick work night dinners and weekend feasts with family and friends.
First published in January 2010 and updated in September 2018.