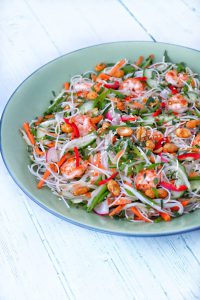 This noodle salad is one of my favourite packed lunches. With minimal effort and cooking involved it holds up well in a lunch box when made the night before.
It's light, healthy, colourful and full of vibrant flavours. The chilli kicks you right into the afternoon with renewed vigour.
It's a relatively freeform recipe in which you can vary the ingredients you use depending on what you have available or fancy and adjust the dressing ingredients to your taste – like it hotter, add more chilli, like it to have more zing, add more lime.
Don't be put off by the quite long list of ingredients – they're relatively easy to get hold of and will be ones you can put to good use regularly, especially when you get hooked on this salad!
Preparation time: 15-20 minutes
Cooking time: 5 minutes
Serves 2
Ingredients
For the salad
2 portions glass/cellophane noodles (these very thin noodles usually come in ready portioned bundles, if not you'll need 150-200g)
4 tbsp salted peanuts or cashews
1 tbsp sesame seeds
2 spring onions, finely sliced on an angle
1/4 cucumber, halved lengthways and seeds removed then finely sliced
1 large handful mange tout, thinly sliced on an angle
1 tbsp mint and/or coriander, chopped
These are the basics I put in my salad but you might also want to add bean sprouts, tiny broccoli florets, blanched green beans, sweetcorn, baby spinach, (if not vegetarian) shredded cooked chicken or cooked prawns.
For the dressing (quantities are an approximate guide – I like to add a little, mix, taste and add until I'm happy)
1/2 – 1 red chilli, thinly sliced (how much chilli you use depends on how hot your chilli is and how hot you can tolerate your food)
1 small clove garlic, crushed
1/2 inch piece ginger, finely chopped
Zest of a lime, chopped
1 tbsp sunflower or vegetable oil
1/2 tbsp toasted sesame oil
1/2 tbsp rice vinegar
1/2 tbsp fish sauce
1/2 tbsp light soy sauce
Juice of a lime
1 pinch sugar
Method
Start by placing the noodles in a bowl and covering with boiling water. Stir with a fork to break them up a little and leave for 3-5 minutes to soften. Drain and run under cold water to stop them cooking further and sticking together. Put back in your bowl.
Meanwhile, in a dry frying pan gently toast the nuts and then the sesame seeds. Set aside in a bowl to cool.
The easiest way to make the dressing is in a clean jam jar. Put the dressing ingredients in the jar, close the lid and give it a good shake. Taste and see if you want to adjust it in any way. Repeat until you're happy with the result.
Pour about 1/3 of the dressing over the noodles and mix to coat them well.
Add the remainder of the salad ingredients, including the toasted nuts and seeds, and combine with the noodles.
Store the rest of the dressing in the jar and the salad in your lunch box in the fridge overnight. When you want to eat, pour over the remainder of the dressing and mix well. Now make your colleagues jealous!