What is The Sundial Kitchen?
The Sundial Kitchen is a multi-purpose kitchen and event space located just off North Street in Bedminster. Not only can the professional kitchen and event space be hired out for food preparation, pop ups, yoga brunches, cookery demonstrations, filming, or social events, but also, the Sundial Kitchen offers catering and they host their own supper clubs and events using surplus, rescued and waste food.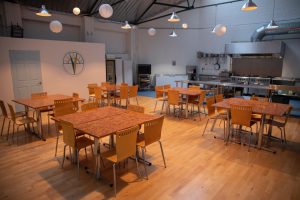 Who's behind The Sundial Kitchen?
The Sundial Kitchen is owned and run by Chloe Hunt and Abby Conway. Abby has experience running events whilst Chloe has experience in private catering, cafes and restaurants. Chloe is in charge of the running of the kitchen and is chef for their supper clubs and event catering. She's passionate about reducing the waste, common in the catering industry.
What makes it great?
The Sundial Kitchen supports local projects which benefit the community and bring people together through food. They are working hard to reduce food waste, cut out single-use plastic (they host supper clubs at which you can also learn to make your own beeswax wraps) and encourage the use of local and seasonal produce. The kitchen is a wonderful space for events in south Bristol.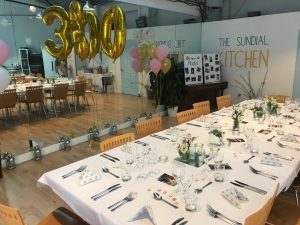 How can you support The Sundial Kitchen?
You can support the Sundial Kitchen, Kitchen Titbits and Bristol Food Connections by joining me for my 'Stress-free family mealtimes' event which will be taking place at the Sundial Kitchen on 15 June.
Otherwise, why not consider the Sundial Kitchen for an event, celebration or work social sometime soon. You can see upcoming events on their Facebook page.
If you have any ideas for how they can use the kitchen to benefit the community, charities or social enterprise projects, do let them know.