When cooking with my children, I don't tend to use recipe books. Instead, I prefer to get them working intuitively; getting to know ingredients, what they taste and feel like, which ingredients complement each other, as well as how to prepare them, weighing and measuring, working on knife and other key skills and being confident with heat – putting things in the oven or stirring at the stove. It's more about the exploration of food and the kitchen rather than the end result.
H is now very good at asking what leftovers we have got to use up or having a look in the fridge to see what's there and coming up with an idea of what he might like to make with the ingredients he finds. Often, he needs some guidance to turn his ideas into a meal but he's confident in his ideas.
There are times when my children want to cook a specific dish and we might then follow a recipe, since learning to read a recipe is an important skill too. I encourage them to look at my cookbooks for inspiration, and with H, there are lessons to be learned in how to find a specific recipe or searching for a collection of recipes by looking for an ingredient in the index.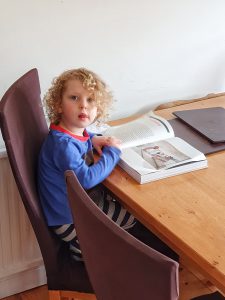 I'm not really into gimmicks and we all eat the same food, so my children have access to my entire cookbook collection, and we'll work through recipes together. But that said, they have been given some books which, whilst themed around the Famous Five, Shrek and The Gruffalo, do contain some good recipes and they aren't all sweet things. That's important to me because cooking with children shouldn't always be about baking cakes and biscuits.
If you're after a book to help you cook with your child, or for when your child wants to cook more independently, there are some really good cookbooks out there. Here are a few of my recommendations.
River Cottage Baby and Toddler Cookbook by Nikki Duffy
Great to get you started on your weaning journey and beyond with some family recipes that you can get your children involved in making. My children love baking the spelt star biscuits from this book, a great sugar-free recipe. We've also made the oatcakes from this book a fair few times.
The River Cottage Family Cookbook by Hugh Fearnley-Whittingstall
A brilliant book to boost your confidence when cooking with your child with plenty of fun ideas, including making your own butter. It explains where food comes from, how it grows, the science behind cooking – it's much more than a cookery book.
Cool Kids Cook by Jenny Chandler
Aimed at children 7 and up to get them working independently in the kitchen to put a meal on the table for the family, with a little help at first.
Kids Cook! by Good Housekeeping
Just like the adults version of the Good Housekeeping cookbook, this is a great encyclopaedia of recipes, how-tos and kitchen basics.
Bake Me a Story by Nadiya Hussain
A storybook and cookery book combined. Each short story is about coming together through food and is accompanied by a recipe.
I Can Cook! by Sally Brown
The cookbook from the CBeebies TV series, I Can Cook! for 3-5 year olds.
The Silver Spoon for Children by Amanda Grant
A fantastic book for older children (recommended for children 10 and above), with easy-to-make recipes for Italian dishes and the most beautiful illustrations.