In a world dominated by men and meat, Genevieve Taylor is on a mission to change the perception of BBQ. Barbecuing, and cooking over fire generally, is becoming increasingly popular. Combine with that the desire, for many to increase their vegetable intake and reduce their meat consumption and it is no wonder, Gen's book, Charred, is making vegetarian BBQ mainstream.
Gen shows us that there's more to BBQ vegetables than corn on the cob, though you will, of course, find corn recipes in the book. How about Mexican spiced veg with caramelised onion guacamole or oyster mushrooms and baby corn with satay sauce for a change?
The book is split into five chapters; kebabs, burgers and fritters, low, slow and smoked, stuffed and wrapped, sharing plates.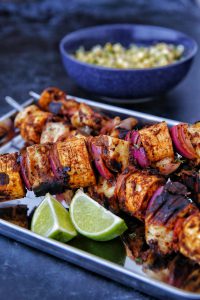 From the kebabs section, we tried the jerk-spiced plantain, shallot and halloumi which I served with rice and peas and a pineapple salsa.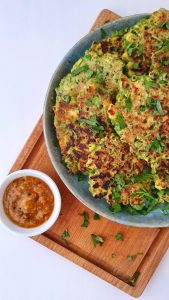 The minted pea and paneer fritters from the burgers and fritters section were a perfect light tea with some mango chutney for dipping.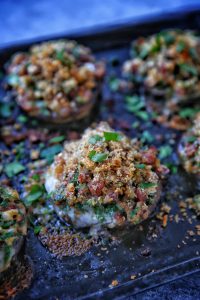 From stuffed and wrapped, I can recommend the Portobello mushrooms stuffed with borlotti beans and Taleggio. There was supposed to be enough for my lunch the next day, but we couldn't resist eating them all!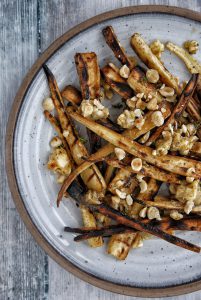 And, from the low, slow and smoked and sharing plates sections, we made the most of the smoke and heat from barbecuing some beef short ribs to make the smoked parmesan parsnips, fennel butter and hazelnuts and the dish which kick-started the book, barbecued carrot, ricotta and toasted pecans. Quite simply, the BEST way to eat carrots!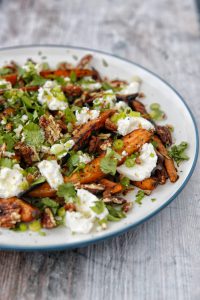 It's worth noting at this point, that we didn't cook all the recipes over fire. In fact, the only ones we did were the parsnips and carrots. The rest, I cooked on a griddle pan or in the oven. They would absolutely have benefitted from some fire and smoke but, when cooking late in the evening once the children are in bed, we couldn't always face lighting some coals. And, the book, whilst demonstrating the versatility of BBQ cooking, is equally great for meat-free meal inspiration. Gen does say that a number of the recipes are suitable for cooking indoors and there are some helpful symbols alongside the recipes to show you the best cooking methods to use.
If you've never given outdoor cooking a go, don't worry, there's ample advice on equipment, techniques and fuels to get you started. If the book gets you hooked, follow Gen on social media for plenty more inspiration and to share your creations.
So, move outside, light a fire and get cooking!