What is FareShare South West?
FareShare South West is a charity which was formed in 2007 to help tackle the food waste and food poverty issues in the South West. They do this by redistributing edible, in date, food to around 185 charities and other organisations across the region, who transform the food into meals for people in their community.
I was privileged to have a tour, this week, of the Bristol warehouse to find out more. The work that goes on, the speed at which the food is taken in, logged, stored and redistributed is astonishing. Everyone I met there had a smile on their face and showed genuine pride in the work they were doing. It was quite humbling to experience.
Who's behind FareShare South West?
FareShare South West are part of the UK's largest charity, FareShare, and one of a network of 21 centres.
As with many of the charities and organisations featured in my Spotlight on series, the small staff of nine simply wouldn't be able to function without some incredibly dedicated volunteers, supporters and charity members. One volunteer I met this week works almost full time at the warehouse.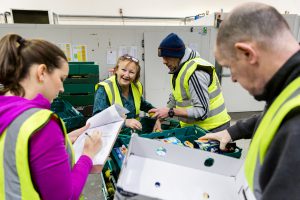 What makes it great?
Over 270,000 tonnes of edible surplus food is thrown away each year and FareShare South West are seeing that it is put to good use. Unlike many of the charities we hear of that are collecting and redistributing surplus food, the produce FareShare receives doesn't even make it as far as the supermarkets and shops, it is waste from the production and distribution networks.
Take this last weekend for example, the supermarkets would have placed orders for BBQ foods and ingredients for comfort foods such as cottage pies, roast dinners and the like, so that they could cope with public demand no matter the weather. As it turned out only the comfort food ingredients made it into the stores, the rest was surplus to requirements.
FareShare South West receive deliveries from retailers at their Bristol warehouse which are sorted and stored (sometimes only for a matter of hours). The food is then distributed to their registered charities, schools and community groups across the South West. The food these groups receive covers their main food needs, meaning they only need to pay for top ups. The organisations supported provide vital services, ranging from homeless shelters to women's support charities, disability charities to school breakfast clubs.
Through their work, they have some created some amazing food stories, a celebration of their work, which you can read on their website.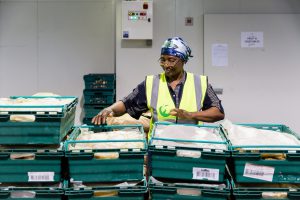 How can you support FareShare South West?
FareShare South West are preparing for their busiest summer yet as the number of holiday hunger schemes increases, and they are looking for more volunteers. If you can spare some time, become a FareShare South West Food Hero by applying for one of their volunteer roles, including warehouse volunteer, van driver, delivery assistant volunteer and cycling volunteer.
If you are a charity, school or project which supports vulnerable people in your community and provides food as a service, then join the FareShare South West network to receive support and food.
Please consider supporting them in the fight against hunger and food waste by donating, fundraising or becoming a corporate partner.