What is Bristol Jam Plan?
Bristol Jam Plan is a community project set up to turn donated, foraged and home grown produce into preserves. The preserves are prepared by volunteers and distributed to local shelters and community groups as well as sold to the public, with the proceeds donated to local charities.
Who's behind Bristol Jam Plan?
Bristol Jam Plan was set up by Danielle Coombes and is run from her kitchen in St Andrews. Danielle is a chef, running supper clubs, private dinner parties as well as stepping in to help local restaurants needing an extra safe pair of hands. As a chef, she's no stranger to making the most of the ingredients available and finding inventive ways of using up the surplus or preserving it for another day.
Danielle was inspired by her mother who, whilst she was growing up, made vast quantities of strawberry jam each summer and her grandmother, who used surplus fruit and vegetables, mostly from her garden, to make preserves to sell at village fetes and raise money for local community groups. She has also been inspired by Incredible Edible, Food Cycle and Caring in Bristol, where she has volunteered. These groups have made her aware of food waste and think about how she can play her part in reducing it.
What makes it great?
Danielle's community project rescues a vast amount of food that might otherwise go to waste whilst helping to support vulnerable people in the area, local communities and charities.
Not only that, the jams, chutneys and ketchups are all delicious!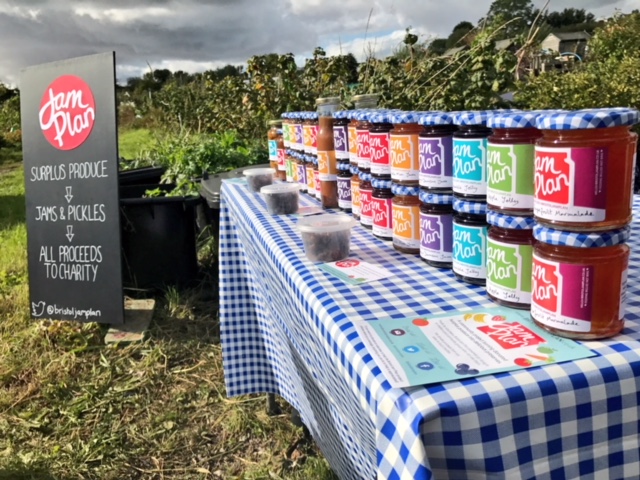 How can you support Bristol Jam Plan?
Buy – you can buy Bristol Jam Plan preserves directly from Danielle (her hampers make great gifts), but also from markets, shops and cafes around the city (head to Hart's Bakery, Windmill Hill City Farm café, Golden Hill Community Garden fairs, the Bearpit, Zero Green, Preserve Foods and Station Kitchen).
Volunteer – you can sign up as a volunteer and you'll be informed when the next preserve session is so that you can go along and help with picking, peeling, chopping and jamming. Danielle is a great host and there's usually tea and cake on offer as a reward!
Donate produce – contact Bristol Jam Plan if you have some surplus fruit and veg from your garden or allotment to donate. Danielle cycles everywhere so if you aren't local to her, please consider arranging a time to drop it off at her house.