HelloFresh, and other meal box schemes, supply you with all the ingredients you need, weighed and measured, for a few meals a week. The idea is to take the stress out of mealtime planning and preparation.
I must admit to thinking, without having tried one, that they were expensive, uninspiring and that there would be horrendous amounts of packaging to recycle or bin after every delivery.
Though I know people who use and enjoy them regularly, as it has given them the confidence to cook and made meal preparation easier, I also know many who have tried and stopped using them after a short time as they found them too restrictive and got bored.
I felt it about time I trialed a meal box scheme to experience it properly and, so it was, armed with a generous offer code, that I placed an order with HelloFresh.
The order process
The order process was straightforward, the discount code automatically applied when I clicked through from my offer email, and it was easy to select a box, the number of people I wanted to feed and the number of recipes per week I needed.
The choice of meals available
Three recipe options were automatically selected, but after checkout I could change these to my preferences from the 10 available, three of which were vegetarian and one fish. There is a recipe overview, calorie information, preparation time and a list of ingredients to help with your decision making.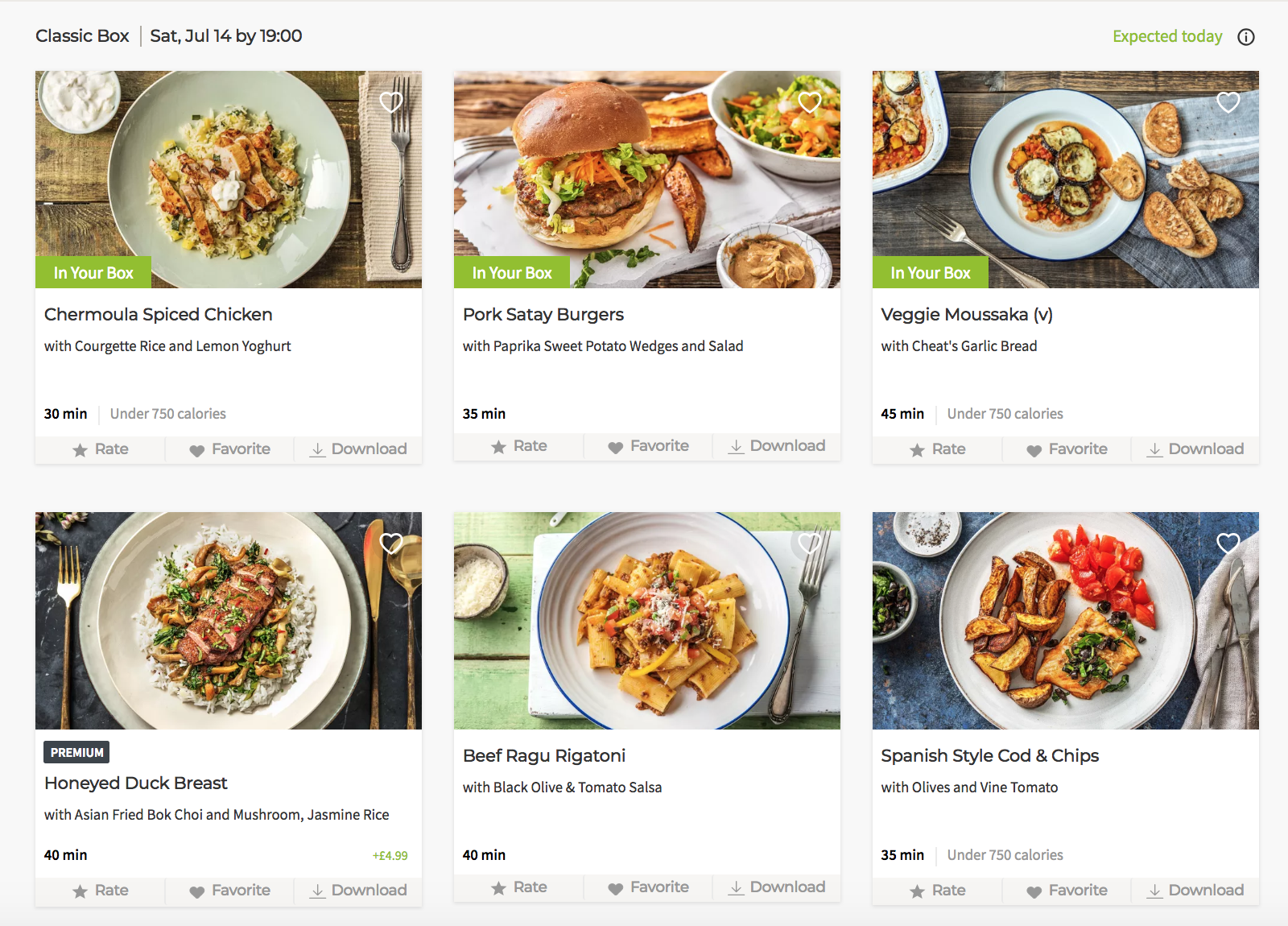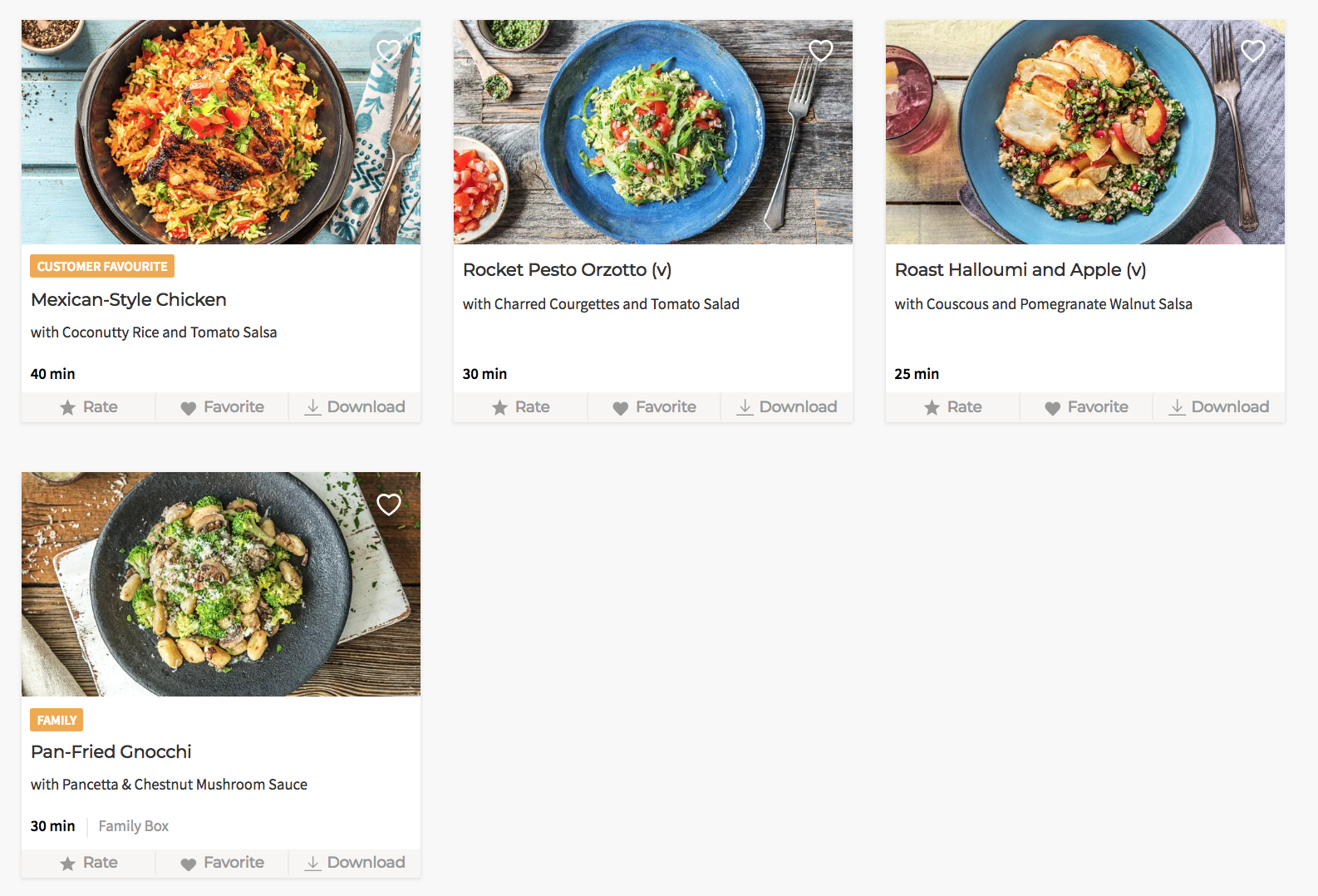 It wasn't a bad collection of meals, but I would have liked more fish recipes to choose from and vegetarians have no choice at all about the number of meals or which meals they get.
I um'd and ah'd for some time over my meal choices as some recipes included ingredients I wasn't keen on and there is no option to change something you don't like. The pork burger came with sweet potato, which I'm not a fan of, the ability to swap for a potato would have been ideal. And, how about a dessert choice?
I also noticed, flicking through the menus from previous weeks, that there is a lot of repetition in the recipes – chermoula spiced chicken with courgette rice one week, and fish the next – so it was easy to see how people could get bored.
The delivery and packaging
I was able to pick a delivery day to suit, though little did I know at the time that my chosen recipes wouldn't last the week, scuppering my meal plan. I had planned to spread the three meals across the week but one of my recipes was to be made within two days of delivery and two of them were to be made within three days.
The packaging was better than I had anticipated. The majority is recyclable, only a few lids and sachets needed to be binned, as did the bag and wool liner for the chilled products. A friend in Bristol put her wool liner out in the recycling and it was taken, but mine wasn't, so whether this is recyclable must depend on your area, or maybe even the mood of the recycling collector!
The ingredients and storage
According to the website, the chiller bag is for meat and dairy products, baffling then was the lone carrot in the bag where all other vegetables were in separate paper bags for each recipe. The chiller bag states on it to put it in the fridge (be warned to remove the ice packs first to avoid water leaking everywhere when they defrost) but what to do with the paper bags? Some of the vegetables I would normally store in the fridge, but given that dry goods and vegetables were together, is that not HelloFresh's intention?
The quality of the ingredients I received started to justify the price tag – just a little. Premium brands I wouldn't normally buy were included and the vegetables were fresh and colourful (with the exception of a bad clove of garlic – what do you do in this instance if you're relying on the boxes and don't have the option to grab another from the cupboard?).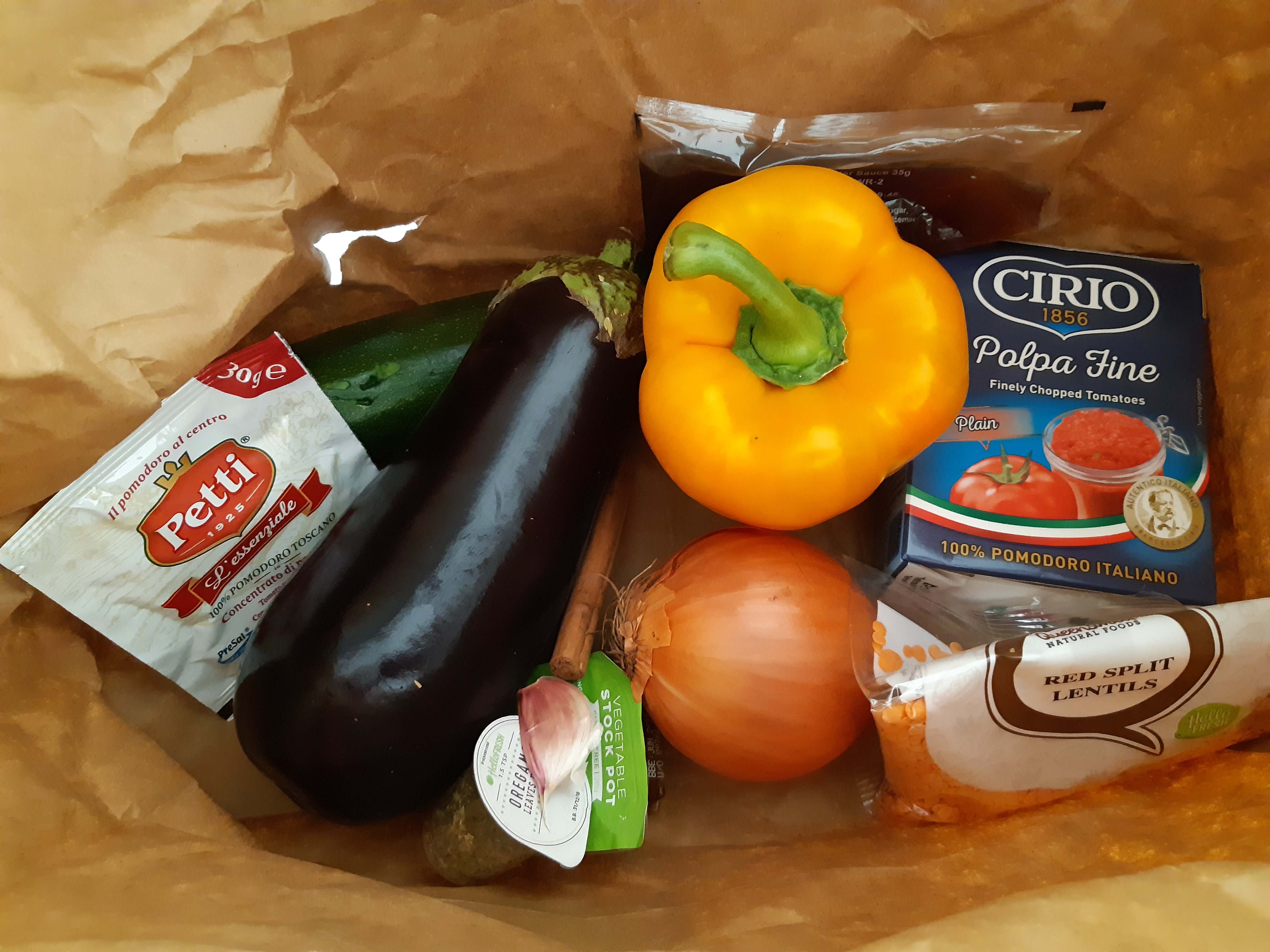 The preparation
I cooked two of the three meals, making a conscious effort to follow the recipes. I had no problems with the pork burger, it was straightforward, but I found timing issues with the veggie moussaka. The tomato sauce was to be cooked for 20-25 minutes until the lentils were tender but still with a bite but after 25 minutes, the lentils were still raw.
My husband, who cooks but is much less experienced that I am, prepared the chicken recipe. He found that he had to rely on the photographs at some points to clarify the instructions. He also found the fact that the recipes are written for different sized boxes confusing, as sometimes you used all the pot or packet provided and other times you needed to check how much of it to use in the instructions. He expected to be given just what was needed for all ingredients.
The meals
What about the meals? They weren't bad, but I wasn't blown away by any of it. We enjoyed the pork burger most. I found the moussaka a chore to eat as there was so much of the tomato and vegetable sauce and very little garlic bread (I'm not sure a Greek would ever use that very British ingredient, Worcestershire sauce, in their cooking either), and my husband found the chicken and rice lacking in flavour except for the occasional chilli kick and, for me, it was seriously lacking vegetables.
The portion sizes were better than I imagined and there was a generous amount of chicken and pork, but there was only enough for the meal, no lunch leftovers for me this week!
The price
I had the pre-conceived idea that the meal boxes are expensive and I think that holds true. The normal price of the classic meal box is £5.83/meal, equating to £11.66 to feed two people. That's £34.99 for the three meals in the week. My offer meant that I paid £2.50/meal, £14.99 for the week, a significant saving and more palatable price.
Interestingly, there doesn't appear to be a discount for vegetarian meal boxes, which I would expect as the ingredients tend to be cheaper.
But how does the price stack up? I did a price comparison of two of the meals with my usual supermarket, Sainsburys.
I think it's worth noting that I have bought in bulk and calculated the price per amount required for the recipe where there is no option to buy the exact amount needed. Further savings could be made by buying other items in bulk or larger sizes, such as multipacks of tinned tomatoes, by buying a block of cheese and grating it yourself or by buying herbs and spices from an ethnic store.
Chermoula spiced chicken with courgette rice and lemon yoghurt
| | | |
| --- | --- | --- |
| Ingredients | Total shop price | Meal price for two people |
| 4 free-range boneless chicken thighs | £3.78 | £3.78 |
| 1tsp chermoula spice mix (5g) | £2.50/170g | £0.07 |
| 1 small pot low fat natural yoghurt | £0.50 | £0.50 |
| 1 onion | £0.17 | £0.17 |
| 1 courgette | £0.20 | £0.20 |
| 1 garlic clove | £0.30/bulb (10 cloves) | £0.03 |
| Small bunch coriander | £0.70 | £0.70 |
| 1 lemon | £0.35 | £0.35 |
| 150g basmati rice | £5.50/4kg | £0.21 |
| Chicken stock pot | £2.50/8 | £0.31 |
| Total | £16.50 | £6.32 |
That's £5.34 you're paying for convenience.
Veggie moussaka
| | | |
| --- | --- | --- |
| Ingredients | Total shop price | Meal price |
| 1 aubergine | £0.70 | £0.70 |
| 1 onion | £0.17 | £0.17 |
| 1 courgette | £0.20 | £0.20 |
| 1 yellow pepper | £0.55 | £0.55 |
| 2 garlic cloves | £0.30/bulb (10 cloves) | £0.06 |
| 1 tsp dried oregano (5g) | £2.50/60g | £0.21 |
| Tomato puree (30g) | £0.40/200g | £0.06 |
| 1 cinnamon stick | £1/13g (estimate 8 in jar) | £0.13 |
| 50g red split lentils | £1.80/kg | £0.09 |
| Worcestershire sauce (17.5ml) | £2.80/290ml | £0.17 |
| Vegetable stock pot | £2.50/8 | £0.31 |
| Chopped tomatoes | £0.35 | £0.35 |
| 1 ciabatta roll | £0.30 | £0.30 |
| Crème fraiche (100ml small pouch) | £1.10/300ml | £0.37 |
| 40g hard Italian cheese (grated parmesan) | £2.40/120g (£20/kg) | £0.80 |
| Total | £17.07 | £4.47 |
That's a whopping £7.19 you're paying for convenience on this veggie meal.
Would I order again?
No, these meal box schemes aren't right for us.
How do I feel about the meal boxes now I've tried one?
The maths does a lot of the talking here. I simply can't see how this stacks up for the average person, if paying full price – it is half of our weekly food budget for two adults, one child and a toddler, for just three meals. That's seven breakfasts, seven lunches, snacks, fruit, four evening meals and maybe a dessert I would still need to buy for us all out of the remainder of the budget.
What about those other meals in the week where you fend for yourself? Will you carry on stopping in at a coffee shop for a flat white and a pastry on your way to work, buying expensive lunches instead of taking something with you, getting takeaways or popping into the supermarket on the way home to pick bits up for tea?
There's no doubting the convenience, and as with one of my friends, it will give many the confidence to cook more, and a wider variety of, meals than before, but the schemes don't help people understand and learn how to meal plan, to write a shopping list, to shop wisely within their budget or to make ingredients stretch. There's no creativity, no thought, required.
If you're struggling and tempted by meal boxes or have already fallen into a meal box habit, let me help you find your way again.