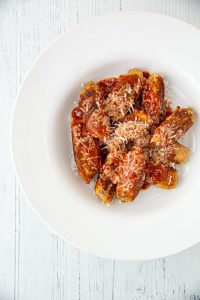 An excellent and more unusual way to use up bread that might otherwise go to waste.
Crusts often get left in our house, so I stash them away in the freezer (along with part slices – mistakes from my appalling bread slicing abilities). Sometimes I'll use them for breadcrumbs but this recipe ensures a lot more bread gets used up. A doddle to make and any leftovers can be frozen.
I like to serve the gnocchi with a roasted tomato sauce* or a quick sauce using tinned tomatoes, pancetta/bacon pieces (if you're not vegetarian – perhaps use mushrooms instead) and grated Parmesan/Grana Padano.
Serves 4-6 (makes about 35 gnocchi)
Ingredients
500g bread
500ml (approx) milk
2 large eggs
75g grated Parmesan/Grana padano, plus extra for serving (I use Grana Padano because it is cheaper and I prefer the flavour)
Ground black pepper (we like lots in our house but season to your own liking)
6 tbsp (approx) plain flour
Olive oil for shallow frying
Method
Tear up the bread into small pieces and put into a large mixing bowl.
Pour over 300ml of the milk and stir. Pour in more milk, a little at a time, and mix well. Add enough milk to make all the bread wet (you want it wet but you don't want pools of milk in the bottom of the bowl). You may need less than the 500ml or you may need a little more. This depends a lot on the bread used and also how much crust is in there.
Leave the bread and milk for two or three hours, stirring occasionally to encourage the bread to break down into mush. If there are a few bits of stubborn large crust pieces that haven't broken down, remove them from the bowl.
Once the bread has broken down, add the eggs, cheese and pepper and mix well.
Add flour as needed, a little at a time. You need to achieve a wet dough consistency but one which holds together well. It is easier at this stage to get your hands in so you have a better feel for the dough.
Take small amounts of the dough and roll into gnocchi using your hands. You'll see that it is wet and sticky but not so wet and sticky that you get into a huge mess.
Put the gnocchi on a board or tray and once they've all been rolled, chill in the fridge for 30 mins. I usually get about 35 out of this mixture.
Preheat the oven to 140c.
Fry the gnocchi in hot oil for a few minutes each side. Transfer to an oven tray and keep warm in the oven until they're all cooked.
*To make a roast tomato sauce, cut tomatoes in half and lay them on a tray, sprinkle over salt and pepper, slices of garlic, some dried thyme if you fancy, and a drizzle of balsamic, if you have some. Roast at 140C for at least a couple of hours to enhance the flavour and then blitz them. If you've got a red or yellow pepper, roast that too. And, if you like the sauce smooth, push it through a sieve to get rid of the pips.