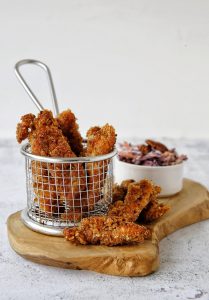 A more interesting version of chicken nuggets and a familiar way to introduce new flavours and subtle spices to those children who, like mine, are averse to curry. It's also another way to use up an open jar of curry paste. I've used both Pataks Korma and Tikka Masala pastes for this with equal success.
You could use turkey breast instead of chicken. If you don't have poppadoms for the coating you could stick with just breadcrumbs or you could even use crushed Cornflakes and Rice Krispies.
A good one to get children involved with the preparation – crushing poppadoms is great fun, as is covering the strips in the coating (if your child can be trusted not to put their hands in their mouths after touching raw meat).
Serve with wedges, salad/slaw and lime pickle yoghurt.
Serves 2 plus and a child
| | |
| --- | --- |
| Ingredients | Equipment to have ready |
| 1 heaped tablespoon curry paste | Sharp knife |
| 2 heaped tablespoons natural yoghurt | Tablespoon measures or tablespoons |
| Juice of 1/4 lemon | Large bowl |
| 2 chicken breasts, sliced into strips | Shallow bowl or plate |
| Bag of mini poppadoms | Baking tray |
| Breadcrumbs | Chopping board |
| Olive or vegetable oil | |
Method
Mix the curry paste, yoghurt and lemon juice together in a bowl then add the chicken strips and coat well.
Leave to marinade for a few hours if you can but even 15 minutes will be fine.
Pre-heat the oven to 180C.
In a shallow bowl or on a plate, crush half the bag of poppadoms and combine with a few tablespoons of breadcrumbs. You may need more of the poppadom and breadcrumb mixture but best to start with this and not waste too much as you can always munch on the poppadoms later!
Get a baking tray ready, lined up next to your bowl of poppadom and breadcrumb coating.
Using one hand, so that you have a clean hand free, pick out a chicken strip from the marinade and place in the coating. Make sure it is well coated and place on the baking tray.
Continue until all the strips are coated and on the tray, then drizzle with oil and bake in the oven for around 10 minutes, or until golden and the chicken is cooked through.