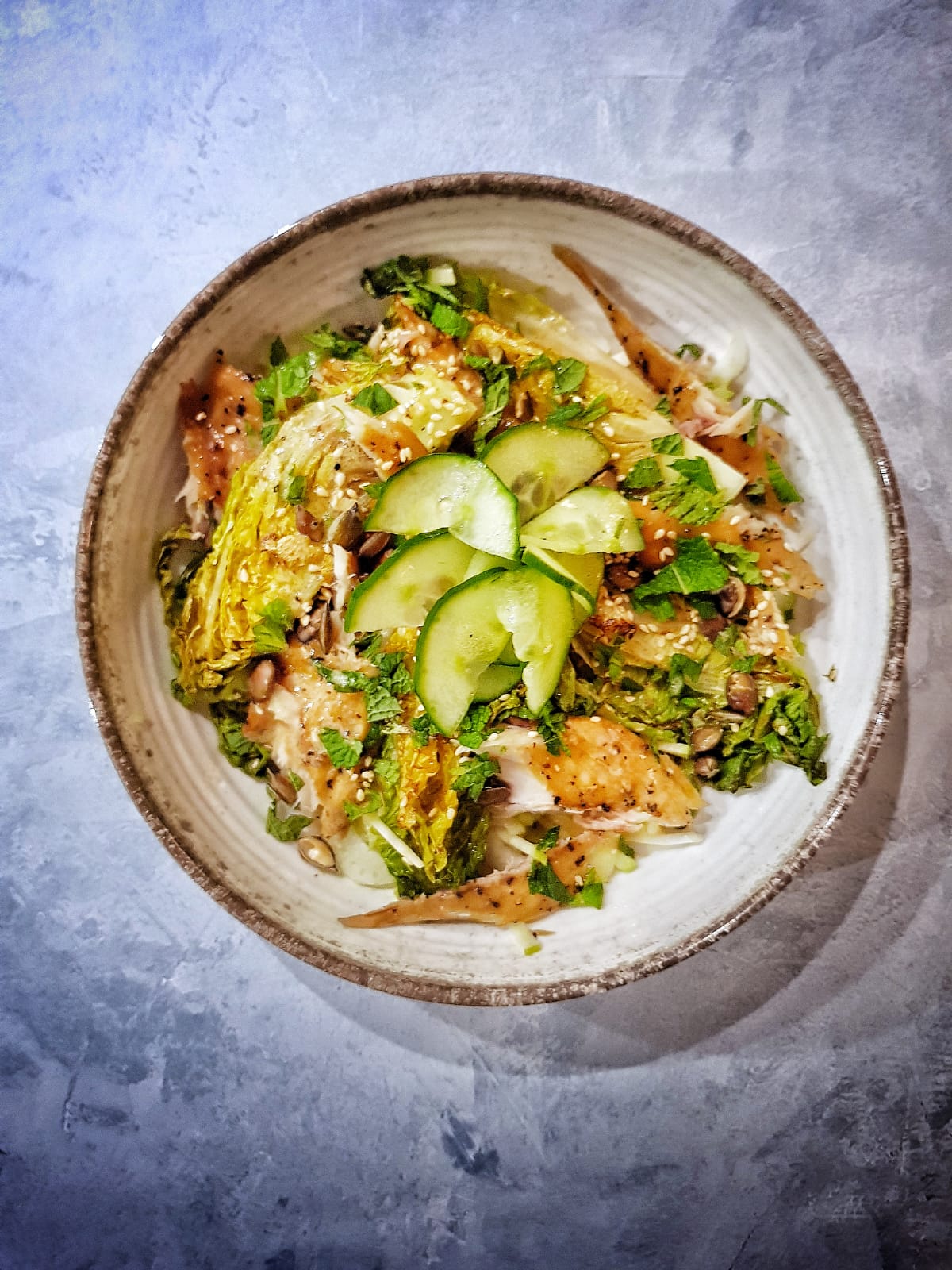 This smoked mackerel salad is a great example of how textures, flavours and temperatures work together to create the most delicious and satisfying salad, which I would eat any time of the year.
To learn more about creating salads for all seasons take a look at my tips.
Serves 2
| | |
| --- | --- |
| Ingredients | Equipment to have ready |
| 1/4 cucumber, halved lengthways and thinly sliced | Chopping board |
| 1/2 tsp sugar | Sharp knife |
| 2 tsp rice vinegar | Small jar with lid for mixing the dress |
| 2 tbsp mixed seeds | Frying pan |
| 1 tsp Dijon mustard | Two mixing bowls |
| Rapeseed oil | |
| 1 clove garlic, crushed | |
| Cider vinegar | |
| Juice of 1/2 lemon juice | |
| 2 little gem lettuces, bottom trimmed and quartered | |
| 1/4 celeriac, cut into thin strips | |
| 1/2 fennel, finely chopped/shredded | |
| Granny Smith apple cut into thin strips | |
| 2 fillets of peppered smoked mackerel, skinned | |
| 2 tbsp chopped parsley or mint | |
| Salt and pepper | |
Method
Start by making the quick pickled cucumber. Put the cucumber slices, sugar, rice vinegar and a pinch of salt in a mixing bowl and stir. Set aside for at least 15 minutes, stirring occasionally. If you can leave it longer, it will be all the better for it.
Toast the seeds and set aside to cool.
Next make the dressing by combining the Dijon, a glug of rapeseed oil, the garlic, a drop of cider vinegar, the lemon juice and some salt and pepper in the jar and shaking well. Taste and adjust the vinegar and oil to suit you. I like my dressing sharp from the lemon and vinegar, but you can tone it down with more oil.
Heat the frying pan and sprinkle the quartered lettuces with salt and pepper and drizzle with oil. Put the lettuce in the dry pan and cook until you have a good brown char on each side.
Put the celeriac, fennel and apple in a mixing bowl, pour over some of the dressing and combine.
To build the salad, put some of the celeriac mixture in your serving bowls, lay four quarters of lettuce over each, break up the mackerel and dot around the bowl, sprinkle over the seeds and herbs, drizzle over a little more dressing and then put half the cumber in the middle on the top of each bowl.
Notes
I like to use peppered smoked mackerel but you could use plain smoked mackerel, hot smoked salmon or a salmon fillet.
The quick pickled cucumber will keep in the fridge in an airtight container for a couple of days if you want to make a bigger batch of it.
Any leftover dressing will keep in the jar in the fridge for a few days.