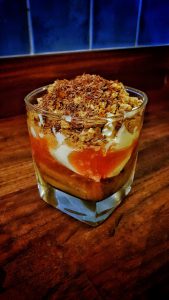 The rhubarb in the garden was growing uncontrollably and was in desperate need of a haircut. I fancied something a little lighter than the usual crumble and pie suspects for dessert so decided to give a variation of my recipe for a sort of Cranachan a go.
The result was deliciously moreish. Soft, ginger-spiced rhubarb, boozy orange cream and a crunchy, chocolatey topping.
Serves 4
Ingredients
400g rhubarb
2 pieces stem ginger
juice of 1 orange
2-4 tbsp soft brown sugar (depending on how tart you like your rhubarb)
200ml double cream
3-4 capfuls Cointreau
8 dark chocolate Hobnobs
Method
Pre-heat the oven to 160C and start by roasting the rhubarb. This can be done in advance, stored in the fridge or even frozen and defrosted ready to use when you want it.
Clean and trim the rhubarb and slice into 1 inch long pieces.
Place in a non-metallic roasting tray along with the sugar and orange juice.
Cut the stem ginger into little cubes and sprinkle in amongst the rhubarb.
Bake in the oven for around 20 to 30 minutes. The rhubarb should be soft but still hold its shape. Leave to cool.
In a bowl, whisk the cream to a soft whip then add most of the Cointreau and stir in. Taste to see if you need to add more. Make it as boozy as you like.
Crush the Hobnobs. You want it quite fine but it doesn't matter if you have some pieces bigger than others. The rough texture works well.
Divide the rhubarb between 4 glasses or bowls, spoon some cream over each and sprinkle on the crushed Hobnobs.