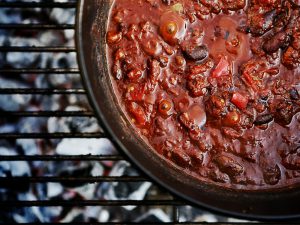 Chilli is one of my favourite meals, always so satisfying and great to eat whatever the weather and, for me, a meal full of memories. It's one of the first meals I learned to cook and by around the age of 10 I was cooking a chilli for my family every other Saturday, whilst my brother was responsible for the Bolognese on the other Saturdays. My chilli recipe has evolved hugely since those days (as has our access to ingredients), but I still enjoy mum's original recipe on a trip home.
If you're cooking for children, add the amount of chilli that they're comfortable with eating (I've stated where chilli is optional or can be added to taste, some of the chillies are very mild and are needed for the flavour in the dish). You can always put extra chilli a jar of jalapenos and/or chilli sauces on the table for you to add extra when serving.
Dried chillies and chipotle en adobo are available from Otomi, MexGrocer and other places online.
Serve with your choice of accompaniments such as rice, tortilla wraps, tortilla chips, grated cheese, sourced cream, sliced red onion, tomato salsa or guacamole.
For a vegetarian alternative to this chilli, which will also help you clear out bits and pieces from your veg drawer, take a look at my (use it up) veggie chilli.
Serves 4-6
| | |
| --- | --- |
| Ingredients | Equipment to have ready |
| 1 tbsp olive oil | Chopping board |
| 500g beef mince | Sharp knife |
| 1 onion, finely chopped | Teaspoon measure or teaspoon |
| 2 cloves of garlic, finely chopped | Tablespoon measure or tablespoon |
| 1 fresh red chilli, finely chopped (optional and amount to taste) | Large pan or casserole with a lid |
| 2 peppers, cut into cubes | |
| 2 tsp ground cumin | |
| 2 tsp ground coriander | |
| 1/2 tsp ground cinnamon (or 10cm cinnamon stick) | |
| 1/2-1tsp chilli powder (optional and amount to taste) | |
| 2 tsp paprika | |
| 1/2 dried ancho chilli | |
| 1/2 dried chilli mulato | |
| 1 chipotle en adobo, finely chopped or 1 tsp chipotle paste or chipotle sauce | |
| 2 1/2 tbsp tomato puree | |
| 1 tsp malt vinegar | |
| 400g tin of chopped tomatoes | |
| Beef stock, enough to fill and clean out the can of tomatoes | |
| 1.5 tbsp cocoa powder | |
| 400g tin of black beans, drained and rinsed | |
| 400g tin of red kidney beans, drained and rinsed | |
| Salt and pepper | |
Method
Heat the pan over a high heat and add the oil. Tip in the beef and brown well.
Turn down the heat and tip in the onion. Season with salt and pepper and cook gently, stirring occasionally until the onion is soft.
Add the pepper, garlic and fresh chilli. Continue to cook, stirring occasionally, until the peppers start to soften.
Stir in the dry spices, chipotle, tomato puree and vinegar coating the meat in the spice mixture and cooking out the tomato puree for a minute or two.
Pour in the tomatoes and mix well before rinsing out your tomato can with beef stock and adding to the pan.
Stir through the cocoa and beans. Bring to the boil then put on the lowest heat with a lid on for as long as you can (around 2 hours is ideal), checking on it and stirring it every so often and adding more water if needed. The sauce thickens and becomes much darker in colour. The longer you leave it to cook, the more the flavours develop.