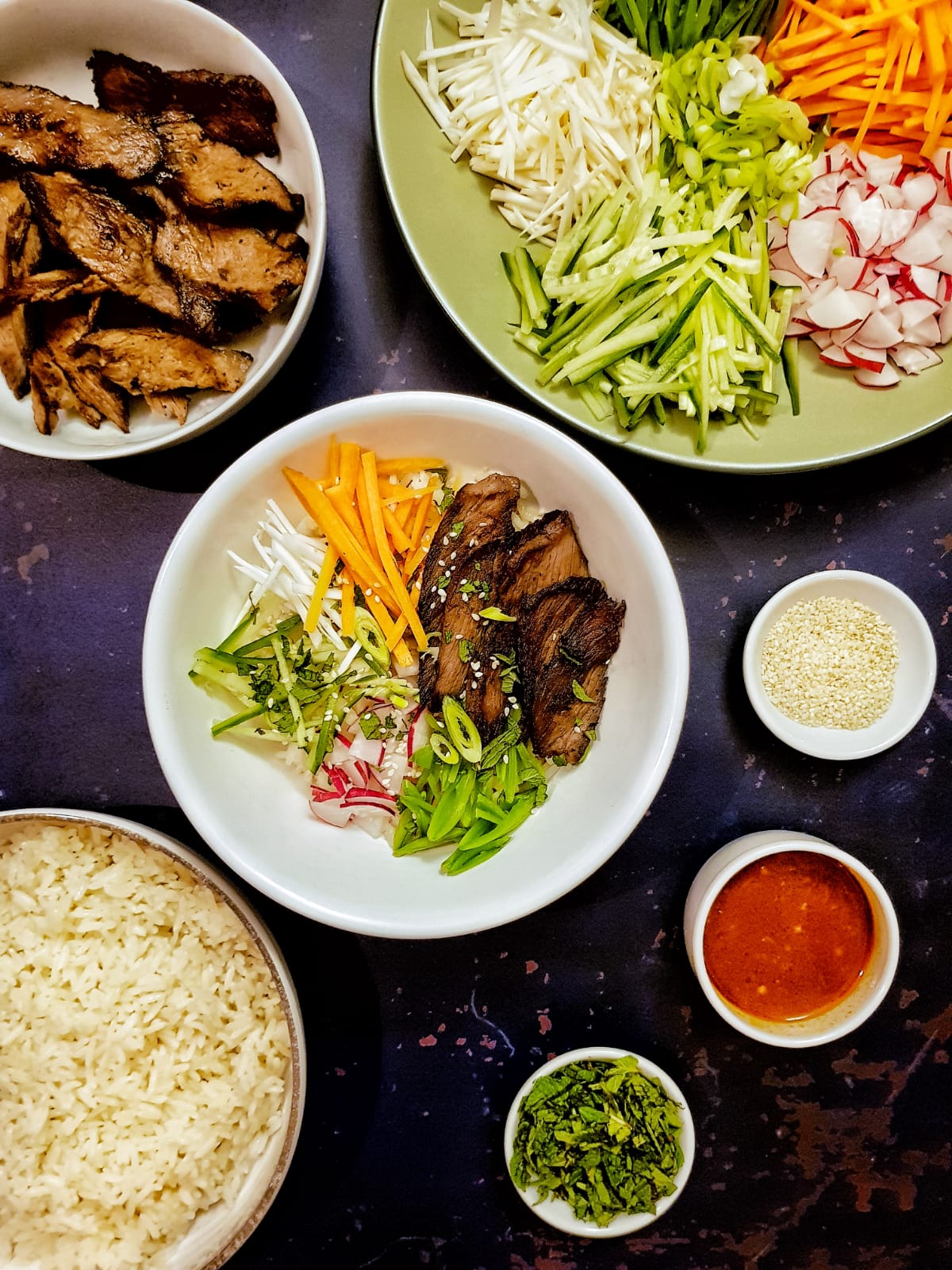 A regular on our dinner table for family mealtimes, bibimbap is a crowd pleaser and a brilliant example of how, even with a picky eater, you can eat interesting meals as a family.
Lay all the components of this delicious Korean rice bowl in the centre of your table and let everyone create a dish to suit their tastes and mood. The variations are endless.
Not so much a recipe as a guideline of ingredients to gather together.
| | |
| --- | --- |
| Ingredients | Equipment to have ready |
| Cooked long grain rice (a portion per person) | Chopping board |
| Selection of fresh, crunchy vegetables cut into thin strips or grated (good ones to use are carrots, radishes, celeriac, sugarsnap peas or mangetout, cucumber, peppers, spring onion) | Sharp knife |
| Beansprouts (optional) | Serving plates, bowls or boards |
| You might also want cooked vegetables such as broccoli and spinach (or only use cooked vegetables if these go down better with your family) | |
| Cooked strips of beef, chicken, mushroom or tofu, salmon fillet or other fish of your choice | |
| Fried or boiled eggs, halved (one per person) | |
| Sesame seeds | |
| Chopped herbs (mint and coriander are best) | |
| Other flavour enhancer ingredients to choose from include pickled ginger, kimchee, a squeeze of lime, sesame oil and soy sauce to drizzle, chilli oil, chilli sauce such as Siracha or my Gochujang dressing | |
Method
Place all the ingredients on serving plates, bowls or boards in the centre of the table.
Let everyone create their dish from the ingredients available.
Watch happy faces tuck in!