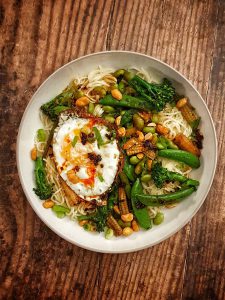 Did you know that in the UK, around 2.7 million carrots go to waste every day? Or that 24 million slices of bread are discarded daily? And that each day 1.4 million bananas are being thrown in the food waste?
Probably more, shocking is that the average person eats the same six dishes on repeat and an average family's food waste equates to £700 a year. What would you do with an extra £700?
One of the ways to eat a more varied diet, reduce your food waste and save money on your food bills this is to meal plan. I must have heard every excuse under the sun as to why people don't do it and yet, the benefits far out weight all of those excuses. 
Whether you just need a helping hand to get started or prefer to have the work done for you, I've got you covered.
---
Here's how you can work with me:
Meal planning mini session
A one-hour session to get you off to a flying start with your meal planning. 
During the session, we'll explore:  
Meal planning – how to get started, how to meal plan, ways to be flexible whilst planning
Getting organised to make meal planning quicker and easier as well as work around your daily routines
Stocking up – using a well and thoughtfully stocked store cupboard and what to include
Batch cooking and preparation – what, how and putting it to use
How to pull a meal together so you aren't reliant on recipes for specific meals
This session is delivered via video call.
Cost: £95
---
Meal planning power hour
A one-hour session to take a deep dive into your current meal planning challenges. This is for you if:
You need me to work alongside you to create your meal plan
You're meal planning but struggling and need some trouble-shooting time
You need some ideas and inspiration for your meal plans
You know the whys and the basics but you need help making it work for you and your family. 
This session is delivered via video call.
Cost: £95
---
An introduction to meal planning
In this masterclass video, I give an introduction to meal planning.
I cover the many benefits of meal planning and how it is a useful tool for everyone. I also share how to get started, my top tips for success as well as how to make the process quicker, easier and more efficient.
Cost: £10
---
Top tips for meal planning success
If you're still sitting on the fence, unconvinced that meal planning is worth you bothering with, then why not take a look at my download?
In this document, I share the many benefits of meal planning and my top tips for success, plus you'll have a simple meal planning template to get you started. 
Cost: £5
---
One-week store cupboard meal plans
These one-week store cupboard meal plans provide you with seven days of breakfasts, lunches and dinners as well as snack and pudding ideas for two people. With some meals there'll be leftovers which are used for another meal in the week or can be frozen.
The meal plans rely on store cupboard and freezer staples with some fresh produce. They also take into consideration all the things I teach such as being mindful of budget, efficient with time and energy, using up ingredients and leftovers.
They contain links to recipes and are full of tips to help you prepare your meals. 
Simply click the button to purchase your meal plan of choice and download your PDF.
Cost: £5 each
Bespoke meal plan service
Please get in touch to let me know how you'd like me to help and we'll take it from there.
---
 

This meal plan is such good value for money. I'm looking forward to being more organised from next week. It's also opened my eyes to how few veggies we actually eat in a week!
---
To be kept up to date on events, workshops and online courses, subscribe to my newsletter using the form in the black bar below.
When buying, your attention is drawn to the terms and conditions of supply.