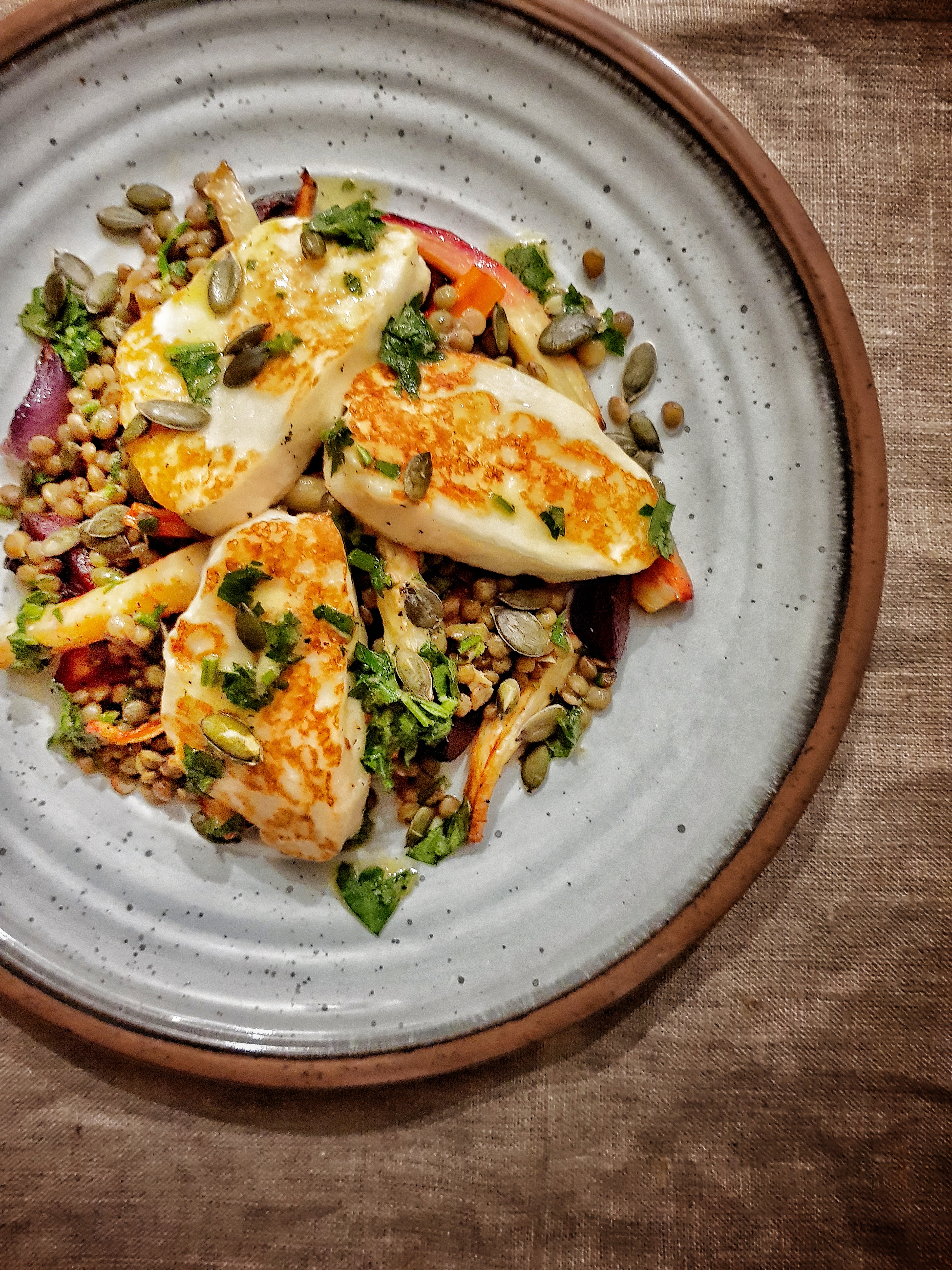 Salads don't have to be restricted to the summer. Roasted root vegetables lend themselves really well to wintery salads, especially when combined with halloumi. If you prefer, you could serve the salad with feta, Turkish cheese or goat's cheese instead of halloumi. If you're vegan, use your preferred vegan cheese or omit the cheese and replace with some roasted baby tomatoes.
I like to eat mine with a flat bread and doused with a punchy dressing and here, I give you two dressings to try.
Serves 2
Ingredients
Equipment to have ready
Selection of around 4 root vegetables, peeled and chopped roughly the same size

I calculate the amount needed roughly along the lines of 1 of each veg per person or ¼ of a veg if it is a large one like celeriac or swede

Chopping board
1 red onion, cut into wedges
Sharp knife
75g uncooked Puy lentils (or you could use green lentils)
Peeler
1 block of halloumi, sliced
Small saucepan
Olive oil
Roasting tray
Salt and pepper
Frying pan
2 tbsp pumpkin seeds
Jar, glass or mug to mix the dressing in
Teaspoon measure or a teaspoon
Tablespoon measure or a tablespoon
| | |
| --- | --- |
| Parsley dressing | Harissa dressing |
| 1 small clove garlic, crushed | 1 tsp harissa paste |
| 1 heaped tsp Dijon mustard | Salt and pepper |
| Salt and pepper | 3 tbsp olive oil |
| 1/2 lemon, zested and juiced | ½ lemon, juiced |
| 3 tbsp olive oil | Splash of sherry or red wine vinegar |
| Splash of cider vinegar | 2 tbsp mint, finely chopped |
| 4 tbsp parsley, finely chopped | |
Method
Preheat the oven to 180C.
Lay the root veg and onion out on a roasting tray, drizzle with oil and season with salt and pepper. Cook in the oven for around 30 mins, or until browned and soft. The cooking time will depend on how large the pieces of veg are.
Whilst the veg is roasting, put the Puy lentils in a pan with plenty of cold water. Bring to the boil then simmer for around 15 minutes, until cooked. (If you use green lentils, cook according to the timings on the packet.)
Prepare the dressing by putting all the ingredients except the herbs in a jar, glass or mug and shake or mix well. Taste and adjust the amount of oil, lemon, vinegar and seasoning according to your taste.
Five minutes before the end of the cooking time for the veg, remove the tray from the oven and sprinkle over the pumpkin seeds before returning the tray to the oven.
Once the veg and lentils are cooked, fry the halloumi in a very hot, dry frying pan for a few minutes on each side to give it a lovely brown colour.
Stir the herbs into the dressing.
Stir a few teaspoons of dressing into the lentils.
Plate up the vegetables, sprinkle over the lentils, top with the halloumi and drizzle over the remainder of the dressing.