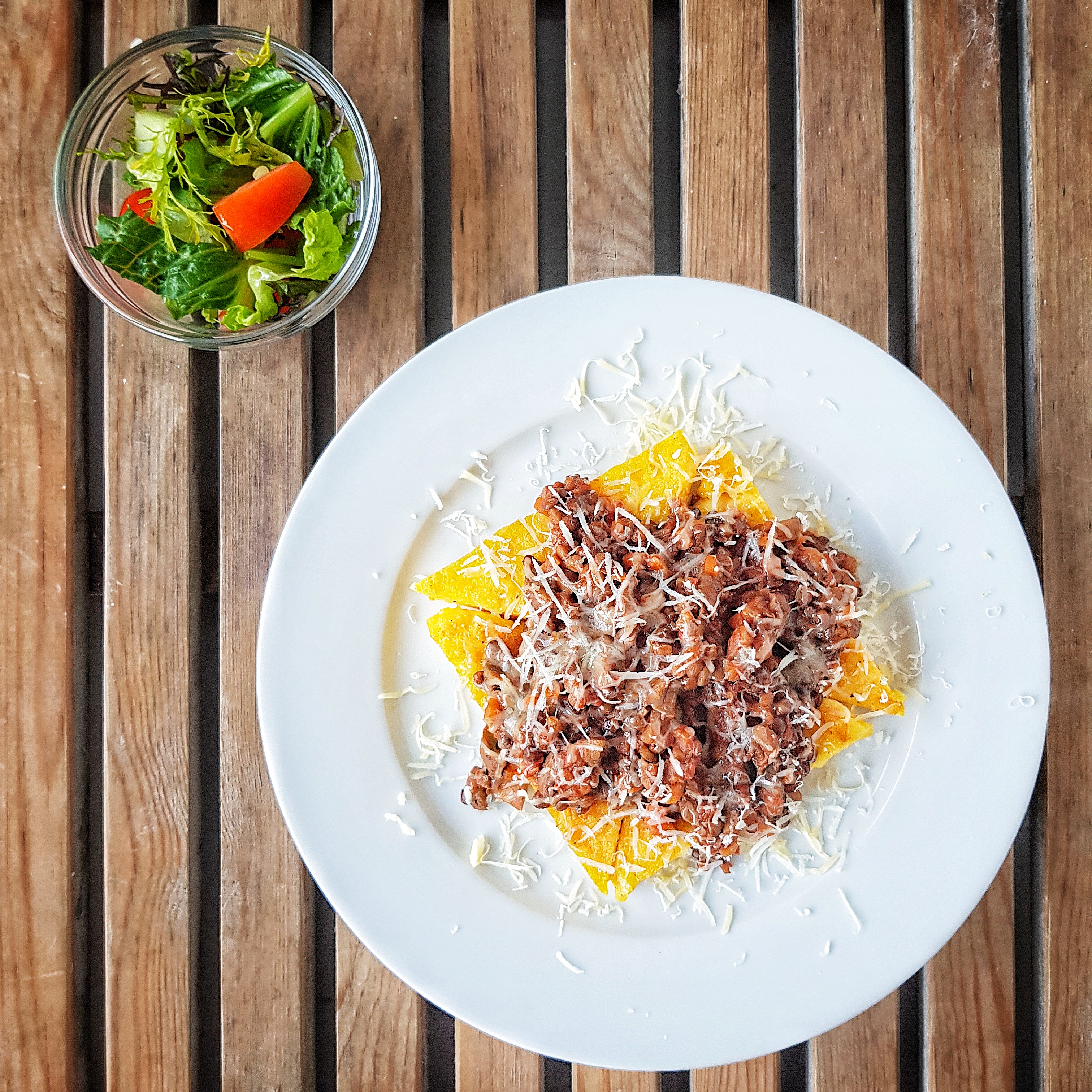 A dish that has been adopted by the British as their own, Bolognese is a weekly meal plan staple in many a household. My veggie version is just as comforting and versatile as the meat version. Why not make this recipe your next batch cook?
Serves 5-6
| | |
| --- | --- |
| Ingredients | Equipment to have ready |
| 2 tbsp olive oil | Chopping board |
| 1 onion, finely chopped | Sharp knife |
| 1 large carrot, cut into small dice or grated | Fine grater |
| 2 or 3 sprigs thyme | Measuring jug |
| 8 leaves cavalo nero, stalk removed and shredded | Large saucepan with lid/casserole suitable for the hob |
| 20g dried porcini soaked in 150ml hot water then the water squeezed out and finely chopped | |
| 2 cloves garlic, finely chopped or grated | |
| 250g mushrooms, cut into a small, rough cubes | |
| 2 tbsp tomato puree | |
| Splash red wine vinegar | |
| 50g green lentils | |
| 200g Puy/speckled lentils | |
| 1 tin of chopped tomatoes | |
| 1 heaped tbsp Marmite or other yeast extract | |
| Veg stock (1 tin worth) | |
| Grana padano or parmesan rind (optional) | |
| Salt and pepper | |
Method
Heat the pan on a medium heat and add the oil. Add the onion and carrot and gently cook, stirring occasionally until the onion turns translucent and the carrot starts to soften.
Turn down the heat, add the thyme, cavalo nero, porcini mushrooms and garlic and gently cook for a little longer, allowing the garlic to cook out so that you no longer have that harsh garlic smell filling your nostrils.
Turn the heat back up to medium and tip in the mushrooms. Cook until softened and the water they released has disappeared.
Add the tomato puree, stir through well and cook out for a minute before adding the wine vinegar.
Mix through the lentils then add the chopped tomatoes, Marmite and stock. Stir well to combine. Add the cheese rind, if using.
Turn up the heat to bring it to the boil, then reduce the heat to as low as will go, put the lid on and cook for as long as possible, but at least 1.5 hours. The longer you can leave it, the richer it will get. Stir occasionally and add more water if needed.
Before serving, season to taste with salt and pepper, remove the lid and cook on a higher heat for a short while if there is too much liquid remaining.