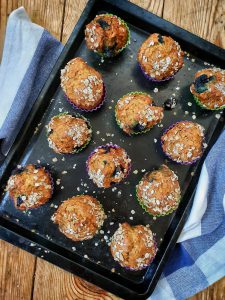 These muffins are a doddle to make and a good vegan alternative to my banana and blueberry muffins. Ring the changes by switching out the blueberries for cherries or chocolate chips.
Irresistible whilst still warm, these muffins also freeze well and defrost quickly.
If you've got ripe bananas stored in the freezer, put them to good use in this recipe.
Makes approx. 12 muffins
| | |
| --- | --- |
| Ingredients | Equipment to have ready |
| 3 large ripe bananas, peeled | Baking tray or muffin tray |
| 50ml sunflower or vegetable oil | Muffin cases |
| 50g sugar | Large mixing bowl |
| 260g plain flour | Teaspoon measure or teaspoon |
| 1 tsp bicarbonate of soda | Cup measure set |
| Rolled oats (optional for decoration) | Spatula |
| Large handful of frozen blueberries | Whisk |
Method
Preheat the oven to 180C.
In a large bowl, mash the bananas really well with a fork.
Pour in the oil and sugar and whisk together using the fork until creamy.
Add the flour and bicarbonate of soda and fold into the banana mixture until just combined. Don't overwork the batter by stirring too vigorously or your muffins won't be light and fluffy.
Fold through the blueberries and spoon the mixture into the muffin cases. Sprinkle over some oats.
Bake for around 25 minutes until golden and when you press lightly on the top of the muffin it bounces back.
Leave to cool on a wire rack before eating. Lovely when still warm!