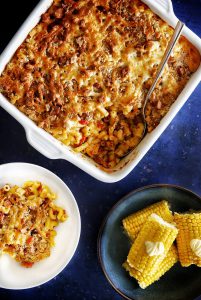 This is my version of the MOB Kitchen chorizo mac and cheese recipe.
The recipe is great as it is and I heartily recommend you give it a try but, as is the case with many of the tried and tested recipes on my blog, I've made some tweaks which accommodate fussy eaters, make use of more store cupboard ingredients, avoid equipment you might not have (or wouldn't want to wash up!) and provide some time efficiencies.
Serves 4
| | |
| --- | --- |
| Ingredients | Equipment to have ready |
| 2/3 ring of cured chorizo, very finely chopped | Chopping board |
| 2 heaped tbsp plain flour | Sharp knife |
| 1 pint milk | Medium sized saucepan |
| Onion salt (optional but does help enhance the cheesy flavour) | Whisk |
| White pepper | Measuring jug |
| 3 large roasted red peppers from a jar, washed and dried the finely chopped | Tablespoon measure or a tablespoon |
| 200g cheddar, grated and 1/3 set aside | Grater |
| 400g macaroni | Large sized saucepan |
| 2-3 handfuls breadcrumbs | Baking dish |
| | Colander |
Method
Pre-heat the oven to 240 degrees (220 Fan) or your grill.
Put a medium sized saucepan on medium heat and drop in the chorizo. Cook, stirring occasionally, until the oils have released and the chorizo has gone crispy.
Set aside 2 tbsp of the cooked chorizo before stirring the flour into the pan and cooking for a few minutes, stirring all the time.
Slowly and gradually add the milk, whisking as you go to ensure there are no lumps. You want a very loose sauce so if it is too thick, save some pasta water when have cooked the pasta and use it to thin down the sauce.
Season with a pinch of onion salt, if using, and some white pepper.
Put the macaroni on to boil. Once cooked, drain and return to the pan.
Stir through the chopped peppers and 2/3 of the cheese.
Allow the sauce to simmer gently on a very low heat, stirring occasionally.
Transfer the sauce to the pasta pan and combine well before transferring to a baking dish.
Top with the breadcrumbs as well as the reserved chorizo and cheese.
Bake for in the oven for 15 minutes, or under the grill, until the top is crispy.
Notes:
I very finely chop the roasted peppers, which is incredibly easy to do with roasted peppers, because they blend into the sauce better and are less likely to be picked at or out with my children, but you could leave them in strips if your children are more accepting.
I bake my macaroni cheese in a very hot oven because I have a tiny grill which doesn't get hot enough.
As it is a rich dish, I like to serve this with corn on the cob or a fresh salad.