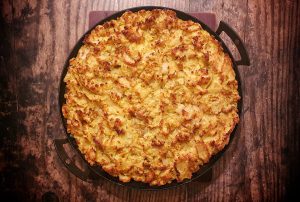 This is my spicy version of a vegetarian cottage pie, which puts to good use any bits of leftover veg you have in the fridge.
Puy lentils work best here but if you can't get them, the normal green/brown lentils are a good substitute.
Serves 4
| | |
| --- | --- |
| Ingredients | Equipment to have ready |
| 3 large potatoes | Ovenproof frying pan/skillet |
| 2 sweet potatoes | Wooden spoon |
| 1 tbsp olive or veg oil | Chopping board |
| 1 small onion, diced | Sharp knife |
| 2 carrots, finely diced | Measuring spoons |
| 200g mushrooms, finely chopped | Jug |
| The same quantity as the carrot of other veg that you've got to use up, for example, parsnip, celeriac, swede, turnip, broccoli stalks, finely diced | Plate |
| 2 cloves garlic, finely chopped | Large mixing bowl |
| 2 tbsp Patak's Madras curry paste | Fork |
| 100g Puy lentils | |
| 400ml vegetable stock | |
| 25g butter, cubed | |
| 1 tsp garam masala | |
| 1/2 tsp turmeric | |
| 6 frozen spinach cubes (optional) | |
| Peas to serve | |
| Salt and pepper | |
 Method
Heat an ovenproof frying pan over a medium heat and add the oil.

Tip in the onion, carrot, mushrooms and your other chosen vegetables. Cook, stirring occasionally until the vegetables have soften and any water released from the mushrooms has evaporated.  

Add the garlic and cook for around a minute until the fumes start to dissipate.

Stir in the paste and cook, whilst stirring for a minute or so.

Stir through the lentils and pour in the vegetable stock.

Season with pepperand bring to boil.
Turn down the heat and simmer gently for around 20 minutes until lentils have softened but are still holding their shape (adding more liquid if needed).
Heat the oven to 200C Fan.
Meanwhile, pierce the potatoes and place them on a plate. Microwave until soft.

Remove the sweet potato from the skins and transfer to a large mixing bowl. Add the potatoes with their skins on then crush with a fork.

Mix through the butter, garam masala and turmeric

and set aside.

Once the filling is cooked, stir through the frozen spinach, if using, and cook just until it has defrosted

.

Taste and season if necessary

.

Put dollops of the potato on top of the filling (I like to keep it so there are peaks rather than flattening) and bake in the oven for around 20-25 minutes until golden.