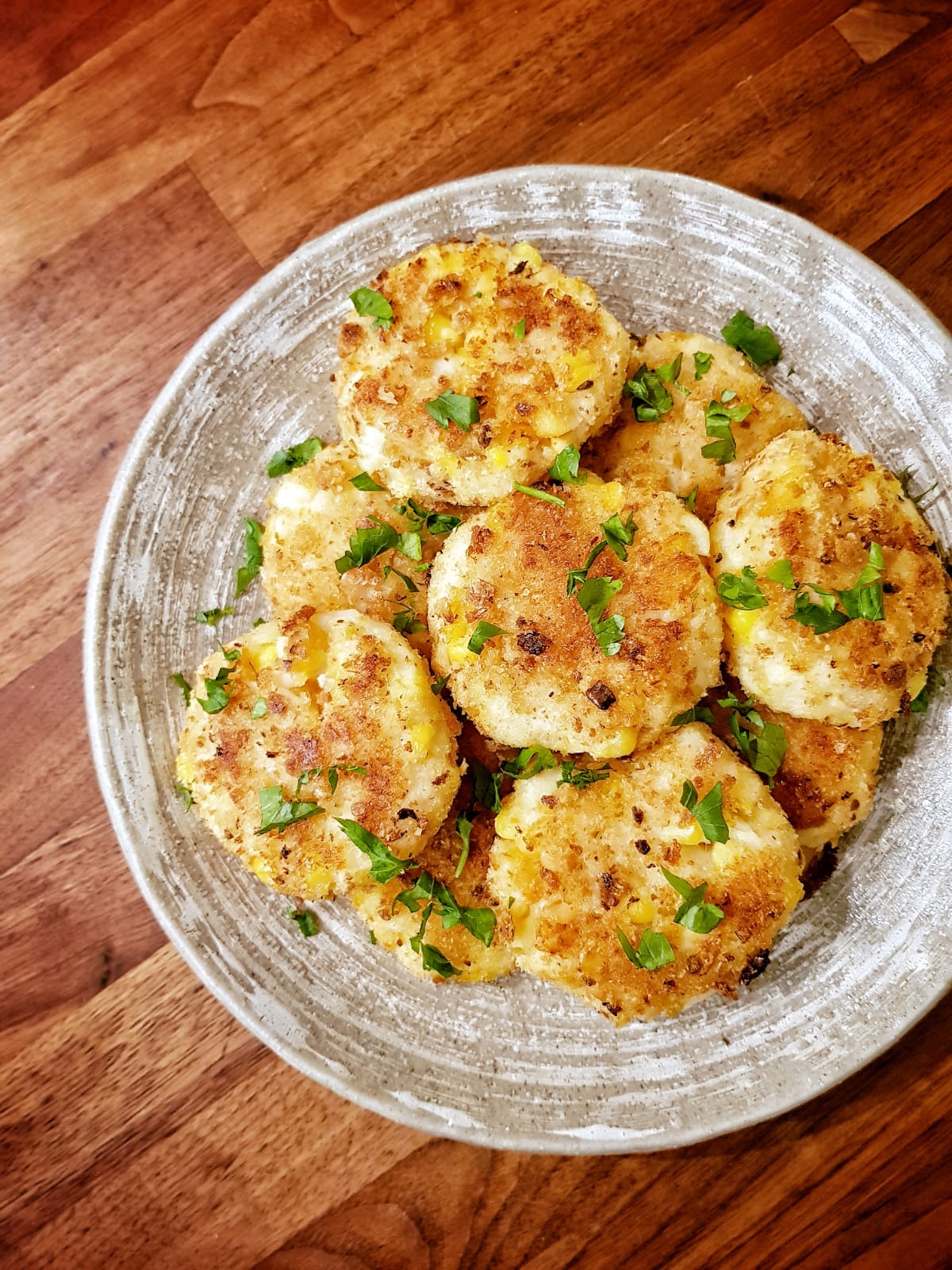 All the ingredients of a smoked haddock chowder but in fishcake form!
My secret for making perfect fishcakes is to bake or microwave the potatoes whole, cool, scoop out the flesh and mash. The fish also needs to be cooked and cooled in advance, so you need to think about your timings for this recipe.
I also have a cheat method for bread crumbing these which doesn't involve the tedious flour, egg and bread crumb process.
Serve with a simple dressed salad and don't forget to bake the potato skins. Extra, crispy yum!
Makes 10-12 fishcakes
Ingredients
Equipment to have ready
800g potatoes (approx. 4 medium potatoes)

Something like a Maris piper is best as you want a potato that isn't waxy

Baking tray
300g approx. smoked haddock fillets (I use frozen)
Pan or microwavable plate and clingfilm for cooking the fish
Drop of milk
Large mixing bowl
1/2 cup sweetcorn (tinned or frozen)
Sharp knife
2 spring onions finely chopped
Dessert spoon
1/2 to 1 tsp chilli powder (chilli to taste)
Chopping board
Salt and pepper
Teaspoon measure or teaspoon
1.5 tbsp olive oil plus 4 tbsp for frying and a drizzle for the potato skins
Tablespoon measure or tablespoon
Approx. 5 dessert spoons breadcrumbs
Method
Ahead of time, bake the potatoes whole in the oven or microwave. Cook the fish by steaming from frozen in a pan or microwave. Leave both to cool.
When you're ready to make the fishcakes, scoop out the potato from the skins into a bowl and mash with a drop of milk. Put the skins to one side.
Flake the fish into the bowl with the potato.
Add the sweetcorn and spring onions, season with salt and pepper (not too much salt because haddock can be salty), and tip in the chilli powder and spring onions.
Mix well with a spoon or your hands then form spoonfuls of the mixture into fishcakes and place on a board.
Chill in the fridge for around 30 minutes, or for as long as you can to allow them to firm up.
Preheat the oven to 160C.
Rub the fishcakes all over with 1.5 tbsp olive oil.
Sprinkle over the breadcrumbs and pat them onto the fishcakes.
Heat 2 tbsp olive oil in a large frying pan on a medium heat and when hot lay in a fishcake and immediately flip over. Repeat one at a time until half the fishcakes are in the pan.
Fry the fishcakes for a few minutes on each side until you have a pleasing golden colour and transfer to a baking tray. Do the same with the other half of the fishcakes.
Put the tray of fishcakes in the oven to heat through for around 10 minutes.
Put the potato skins on a baking tray, drizzle with a little oil and put in the oven to crisp up.