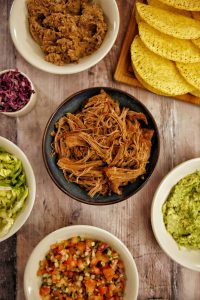 Normally, my husband is in charge of our pulled pork and cooks it on the smoker. Here's my slow cooker version for cold, wet and wintry days when cooking for hours outside isn't so appealing!
I find that cooking the pork in this way makes it go much further. I can also cook a much bigger piece of meat than I need so that I can have the cooked meat in the freezer for other meals. The initial outlay is a lot but you save time, money and energy in the long-run.
Try swapping the pork for skinless chicken thighs.
Serves 4-6 depending on how you serve it
| | |
| --- | --- |
| Ingredients | Equipment to have ready |
| 1 onion, halved and thinly sliced | Small mixing bowl |
| 2 cloves, peeled and bashed gently | Chopping board |
| 1/2 tsp garlic powder | Sharp knife |
| 1/4 to 1 tsp chilli powder depending on taste | Measuring jug |
| 1/2 tsp ground cumin | Slow cooker |
| 1/4 tsp cinnamon | Teaspoon measure or teaspoon |
| 1 tsp smoked paprika | Spoon and fork |
| 1 tsp paprika | |
| 1/2 tsp fennel seeds | |
| 1/2 tsp ground coriander | |
| 1/2 tsp dried oregano | |
| 1 tsp brown sugar | |
| Salt and pepper | |
| 1.5kg pork shoulder | |
| 100ml chicken stock | |
Method
Lay the sliced onions and garlic in the bottom of the slow cooker.
Mix all the herbs and spices together in a small mixing bowl.
If you wish, remove the skin from the pork and reserve for later when you can rub with salt and bake in a very hot oven until crackled.
Rub the herb and spice mixture all over the pork and place it on top of the onions and garlic in the slow cooker.
Pour in the chicken stock.
Cook on low for around 6 hours or until the pork pulls apart easily with a spoon.
Remove the pork from the slow cooker and pull. You can do this with two spoons or a spoon and a fork. Transfer to a serving bowl.