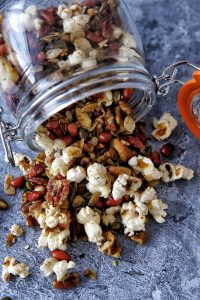 A great savoury mix to have in an airtight container to snack on throughout the week.
I like to make this in a pan on the hob to save heating up the oven but also to make it easier to keep an eye on the nuts, which are quick to burn.
I use a cup measure for the nuts and popcorn, but you could measure using a jug if you don't have cup measures. 1 cup = 250ml.
If you need to avoid nuts, you could replace them with some crunchy roasted chickpeas and lentils. Simply leave off the spices from this recipe.
| | |
| --- | --- |
| Ingredients | Equipment to have ready |
| 1/2 tbsp olive oil | Mixing bowl |
| 1/2 tsp fresh rosemary, spines stripped from the stalk and finely chopped | Cup measure |
| 1/2 tsp fresh thyme, leaves stripped from stalk | Teaspoon and tablespoon measures |
| Zest of 1/2 lemon | Non-stick frying pan or cast iron skillet |
| 1/2 – 1 tsp chilli powder or flakes (optional and to taste) | Zester or fine grater |
| 1 cup mixed nuts (walnuts, pecans, hazelnuts, almonds, peanuts) | |
| 1 tbsp pumpkin seeds | |
| 1 tbsp sunflower seeds | |
| 1 cup plain popcorn | |
| Salt and pepper | |
Method
Put the oil, rosemary, thyme, lemon zest, chilli (if using), a pinch of salt and a good grind of black pepper in a mixing bowl and stir to combine.
Tip in the nuts and seeds and coat well.
Heat the frying pan or skillet over a medium heat. Tip on the nuts and seeds and toast, stirring occasionally until nicely toasted and the pumpkin seeds start to pop.
Leave to cool before stirring through the popcorn and storing in an airtight container.