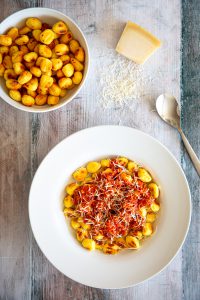 A rich sauce to serve with gnocchi or pasta (plus leftovers are great on toast).
It's quick, it's easy, it makes a little go a long way and it's a crowd pleaser.
Serves 4
| | |
| --- | --- |
| Ingredients | Equipment to have ready |
| 1 tbsp olive oil | Large frying pan |
| 6 pork sausages, skins removed | Tablespoon measure |
| 1 large clove of garlic, finely chopped | Grater |
| 1 large carrot, grated | Chopping board |
| Chilli flakes (optional and added to taste) | Sharp knife |
| 1 tsp red wine vinegar | Wooden spoon |
| 500ml passata | Measuring jug |
| Black pepper | |
Method
Heat the frying pan over a high heat and add the oil.
Break up the sausages as you add them to the pan. Season with pepper and allow to brown all over, stirring occasionally to break up the sausage meat even further into a mince-like texture.
Turn down the heat and add the garlic and carrot. Stir regularly and cook until the carrot starts to soften.
Add the chilli flakes, if using, and the red wine vinegar. Cook until the vinegar has reduced completely.
Pour in the passata and rinse out the container with approx. 75 ml cold water and add it to the pan. Stir well.
Bring to the boil and then leave to simmer, uncovered, for around 20-30 minutes until the sauce has reduced and thickened.
Taste and check the seasoning before serving.