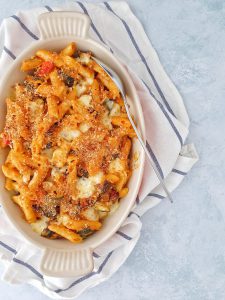 The hunt for quick and easy meals is always on and with this cheat's baked rigatoni I thought I was onto a winner. Described as a 'bung-it-all-in and bake-it' recipe, this cheat's baked rigatoni sounded right up my street and something I might even tempt the children to eat!
First time around, I cooked the recipe to the letter and it was very good; definitely quick and easy. The second time of making it, I couldn't get mascarpone so substituted cream cheese, which I preferred. I also used up an open jar of red pesto instead of using fresh (store cupboard ingredients mean you don't need to make a special trip to the shops) and incorporated some batch prepared roasted vegetables rather than the shop bought roast veg in the recipe.
Make the recipe vegetarian (and cheaper) by leaving out the parma ham or try it instead with Milano salami or thin slices of chorizo.
This is my version of the dish; roasted vegetable pasta.
Serves 2
| | |
| --- | --- |
| Ingredients | Equipment to have ready |
| 200g rigatoni (penne also works well) | Baking dish |
| 2/3 jar of red pesto | Large saucepan |
| 100g cream cheese | Colander |
| Roasted vegetable slices/pieces (I recommend 1 red onion, 1 courgette, 1 red and 1 yellow pepper, 1 aubergine) | Chopping board |
| Few slices of parma ham, Milano salami or chorizo, chopped (optional) | Sharp knife |
| 1 mozzarella ball or 100g cheddar cheese, cubed (not quite the same but saves a trip to the shop!) | |
| Handful of breadcrumbs (optional) | |
| Fresh basil leaves (optional) | |
Method
Pre-heat the grill.
Cook the pasta in boiling, salted water, according to the instructions on the packet.
Drain the pasta, reserving a little of the cooking water, and return it to the pan.
Add the pesto and cream cheese and stir through to coat all the pasta. Add a few drops of the pasta water to loosen it a little, if needed.
Stir through the vegetables and half the meat (if using). Taste and adjust the seasoning, if necessary.
Transfer to a baking dish, top with the cheese, breadcrumbs and remaining meat (if using) then bake under the grill for around 5 minutes, until the cheese has melted and the meat has gone a little crispy.
Garnish with basil leaves, if you have them.