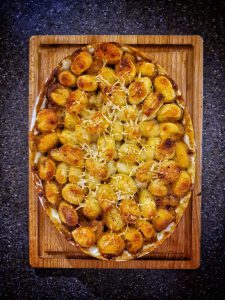 Shepherd's Cottage is what we called Shepherd's and Cottage Pies in our house when I was a child and the name has stuck. I like the freedom it provides – use lamb or beef as takes your fancy or as the fridge/freezer allows! Equally delicious with lentils as a base instead of mince.
I like to spice it up a little, using a jar of good shop bought curry paste. I see no harm in using ready-made 'cheat' ingredients on the odd occasion. Let's be realistic, Nigella and Delia both do!
To save time, you can swap out the mash potatoes for a pack of gnocchi, like in the photo. Simply top the pie with the gnocchi (no need to cook or even defrost first), add a few knobs of butter and a grating of cheese if you wish and into the oven it goes.
Serves 2
Ingredients                                                                              
2 large potatoes, peeled and chopped
1 onion, peeled and chopped
1 or 2 cloves garlic
250g minced beef or lamb
1 carrot, peeled and diced
4-6 mushrooms, sliced
3/4 tablespoon Madras curry paste (I use Pataks)
1/2 tablespoon tomato puree
1 beef stock cube
1/2 pint hot water
seasoning
olive oil
a knob butter
a drop of milk
Method
Preheat the oven to gas mark 6/200°C.
Place the potatoes in the saucepan with some water and bring to the boil. Boil for 10-15 minutes until soft. Drain the water from the potatoes. Add a drop of milk, a knob of butter and seasoning to the potatoes and mash. Put to one side whilst you make the pie filling.
Gently fry the onion in a little oil until soft. Add the carrot and cook for about 5 minutes. Then add the garlic and mushrooms and cook for another minute or two.
Turn up the heat and add the mince, cooking until brown.
Add the curry paste and tomato puree and mix in well. Crumble in the stock cube and pour in the hot water.
Season well, turn down the heat and cook gently for 20-30 minutes.
Transfer the mixture to the baking dish.
Top the mixture with the mashed potato and bake in the oven for 30-45 minutes until the topping is brown.
Serve with peas, French beans or whatever vegetables you fancy.