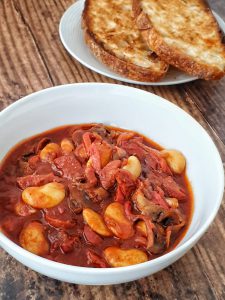 This is a pared back, thriftier and speedier alternative to my Chicken, Chorizo and Chickpea Stew recipe. Great to make in an evening ready to pack in your lunchbox for the next day.
I use a ring of cured chorizo for this recipe. It's a great fridge staple which will come to your rescue on many an occasion when you're after something quick and tasty (omelettes, pitta pizzas, hash, pilafs, paellas, jambalaya are all great options). You can, of course, use a few fresh chorizo if you have them and are feeling more extravagant.
Serves 2
Preparation time: 5 minutes
Cooking time: 15-20 minutes
Ingredients
1/2 tbsp olive oil
1/2 onion, finely sliced into half moons
1 fat clove garlic, finely chopped or crushed
1/3 ring of semi-cured picante chorizo, skinned, halved lengthways and sliced
1/2 tsp sweet smoked paprika
1/2 tsp hot smoked paprika (if you don't like it too spicy you could just use 1 tsp sweet smoked paprika)
1 tbsp tomato puree
1 tbsp Spanish sherry vinegar (or red wine vinegar if you don't have it or even a splash of red or white wine)
chicken stock (1 tbsp concentrated or 1/2 stock cube combined with 150ml water or 150ml fresh chicken stock)
1 or 2 roasted red peppers from a jar, sliced
215g can butter beans or 1/2 410g can chickpeas, drained and rinsed
salt and pepper
1 tbsp chopped parsley leaves (optional)
Method
Heat the oil in a frying pan over a medium heat. Throw in the onion and cook gently until soft and brown then add the garlic and cook for a few minutes, stirring so that it doesn't burn. You just want to cook it until you no longer get hit by the harsh garlic fumes being released from the pan. The fumes turn to wafts of mellow garlic.
In goes the chorizo. Stir then leave for a few minutes so that the paprika oils start to come out of the meat.
Add the paprika and tomato puree. Stir well so that the paprika doesn't burn then add the vinegar. Cook for a minute or so before pouring in the stock.
Stir in the roasted red pepper, butter beans or chickpeas and season with salt and pepper.
Simmer gently for about 10 minutes, stirring occasionally. Add more water if the stew is getting too thick and becoming dry.
Stir in the parsley and serve with a hunk of fresh bread, toasted sourdough, pitta or perhaps some mashed potato.