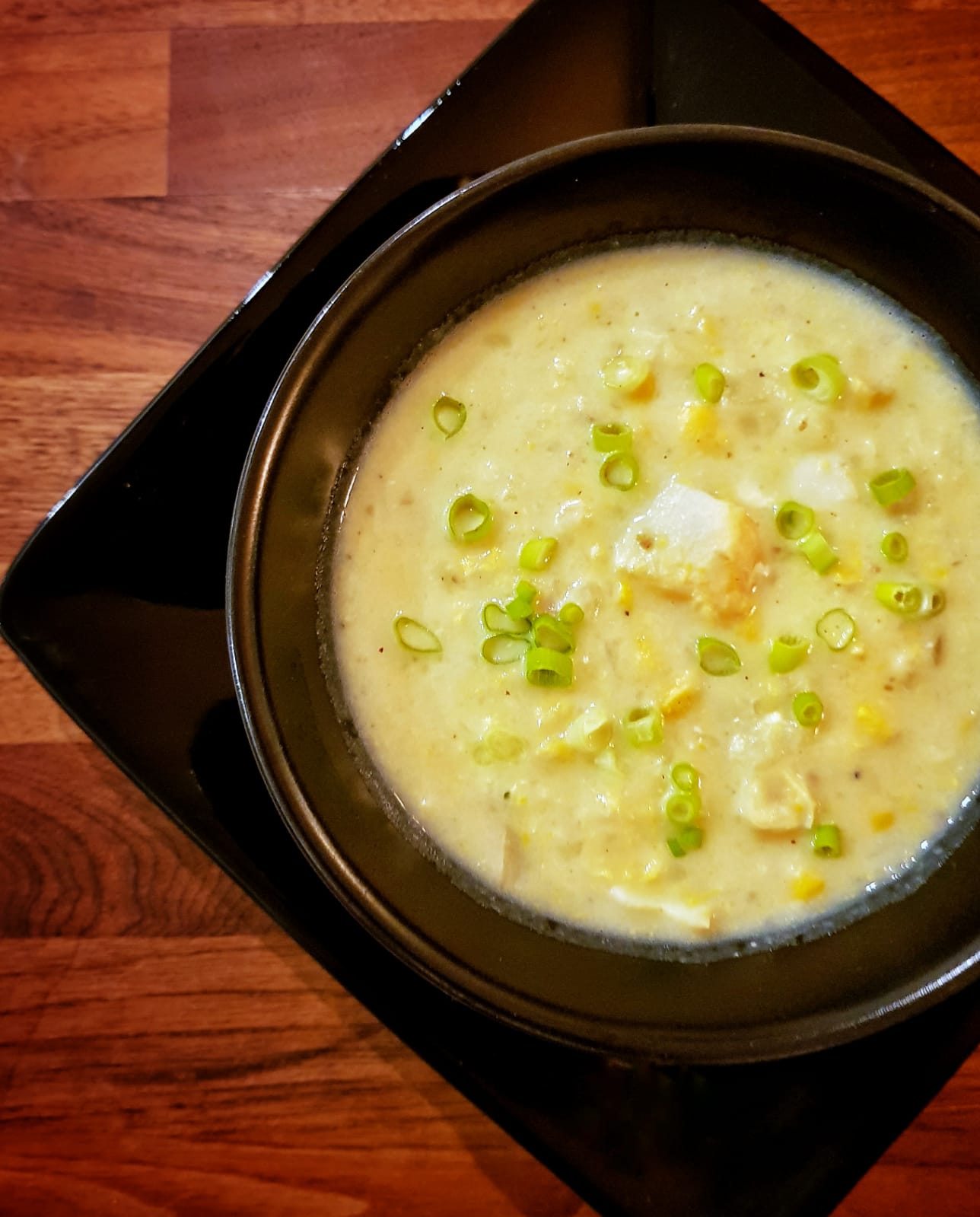 Serves 2 (just multiply the quantities for more people and the recipe works well)
Ingredients
1 large knob of butter
1 onion, chopped
1 large potato, cubed
1 large can sweetcorn, drained
pinch chilli powder (or as much as you like for taste)
salt and white pepper
1 fillet undyed smoked haddock
200ml milk
300ml vegetable stock
1 spring onion, finely chopped
Method
Gently poach the smoked haddock in the milk for about 5 minutes – just until the fish starts to flake easily.
Remove the fish from the milk and leave on one side whilst you make the chowder. Don't throw away the milk, you'll need this for your chowder – poaching the fish in it first will have added bags of flavour to it.
Cook the onion gently in the butter until it softens. You need to do it on a low heat so it doesn't brown.
Add the potato and coat in the butter and onion. Cook for a few minutes. You'll need to stir because the potato can stick.
Add the sweetcorn and cook for another few minutes, still stirring.
Add the chilli and some white pepper.
Pour in the milk and vegetable stock. Mix well and bring to the boil.
Simmer on a low heat with the lid on until the potato is cooked.
Take just over half of the soup and whiz in the liquidiser or with the hand blender until smooth.
Pour this back into the pan with the un-blitzed soup and stir well. This is what thickens the soup to create a chowder.
Remove the skin from the haddock and break it up into flakes before adding the fish into the chowder and gently stirring it to warm it back through.
Season the chowder with salt and more pepper if it is needed. Chowder should be quite thick but if it is too thick you can add a little water to thin it down.
Serve with a sprinkling of finely chopped spring onion on the top and warm crusty bread.