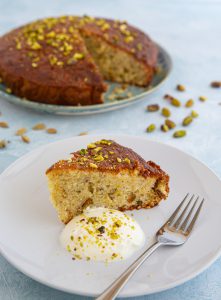 A lovely fragrant and nutty cake. A perfect end to a Middle-Eastern themed meal or delicious served with a cup of tea.
Serves 8-12
Preparation time: 20 minutes
Cooking time: 40-50 minutes
Ingredients
100g unsalted shelled pistachios
225g plain flour
2 tsp baking powder
100g butter, softened, plus extra for greasing
200g caster sugar
4 eggs, lightly whisked
100 ml milk
Zest of 1 lemon, grated or finely chopped
10 green cardamom pods, seeds only, lightly crushed (approx. 1/2 tsp seeds)
1 lemon, juice only
Honey, equal volume to lemon juice extracted
Method
Preheat the oven to 180C, butter the sides of a 23cm cake tin and line the base with a disc of greaseproof paper.
Put the pistachios in a food processor until coarsely ground 9or you could do this in a pestle and mortar). Tip into a large bowl along with the flour and baking powder. Stir to combine the ingredients.
In another bowl, cream the butter until soft. Add the sugar and beat until the mixture is light and fluffy then gradually add the eggs, beating all the time until combined.
Beat in the milk, lemon zest and cardamom, then tip in the pistachios, baking powder and flour. Gently fold the dry ingredients gently into the wet ingredients before tipping the mixture into the prepared tin.
Bake for 40-50 minutes, until a skewer inserted into the centre of the cake comes out clean.
Towards the end of the baking, put the lemon juice and honey into a small pan over a low heat. Stir to melt the honey into the juice, then bring to the boil. Remove from the heat once it comes to the boil.
When the cake is cooked, take it out of the oven and let it sit in the tin for 5 minutes. Loosen around the edges then transfer the cake from the tin to your serving plate.
Using a skewer, gently pierce all over the top of the cake. Pour the hot honey and lemon mixture over the cake and allow the cake to cool completely.