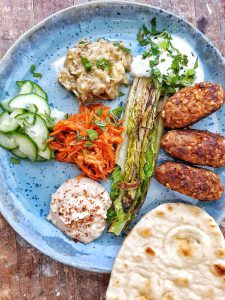 My Moroccan style lamb kebabs use bulgar wheat instead of breadcrumbs and egg to bind the mixture. This Middle Eastern style substitute adds a firm, chewy texture and nutty flavour to the kebabs.
Serves 2-3 people depending how greedy you're feeling!
Ingredients
50g dried bulgar wheat
250g minced lamb
1 tbsp harissa (I use Seasoned Pioneers which is made into a paste with garlic and olive oil or Le Phare du Cap Bon paste)
juice of quarter of a lemon
1/4 tsp ground ginger
1 tsp ground cumin
1/2 tsp ground coriander
2 tbsp pine nuts, toasted and roughly chopped (you could also use mixed chopped nuts)
half a small red onion, finely chopped
1 clove garlic, finely chopped or crushed
1-2 tbsp chopped coriander leaves (optional)
salt and pepper
Method
Soak the bulgar wheat in a bowl of boiling water for about 30 minutes. Drain and dry off in a clean tea towel.
Mix all the kebab ingredients together with the now cooked bulgar wheat. It's best to use your hands at this stage to make sure the ingredients are well mixed and the kebab mixture starts to bind.
Take a small handful of the mixture and form into torpedo shaped kebabs. You can make them any shape or size you want but I think these small torpedo shapes work really well with pittas. You should be able to get about 12 out of the mixture.
Heat up a non-stick frying pan and when it's very hot add the kebabs. Cook until nice and brown and crisp on one side and turn occasionally to achieve the same results all over. Check that they're hot all the way through before serving.
Go all out and serve these in pitta pockets stuffed with pickled cucumber, baba ganoush, harissa yoghurt and a salad of shredded iceberg, very thin slices of red onion and grated carrot. Divine!