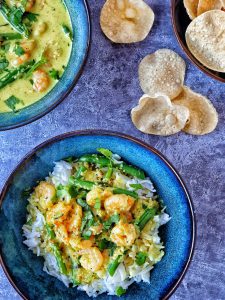 A friend of ours asked me for advice on what to cook at a murder mystery dinner party. He needed something he could bring to the table quickly during the proceedings, preferably something he could make ahead of time and finish at the last minute. Oh and no meat…fish was allowed!
Serves 4 but can be doubled without any problems
Ingredients
2 red chillies (seeds removed)
1 small red onion, roughly chopped
1 clove garlic
2.5 cm piece of root ginger, peeled and roughly chopped
small amount of veg or sunflower oil
1 tsp black or brown mustard seeds
1/2 tsp fenugreek seeds
14 curry leaves (fresh or dried)
1/2 tsp turmeric
1/2 tsp crushed black peppercorns
400-500g large prawns (cooked is fine)
1 tin coconut milk
juice of 1 lime
fresh chopped coriander leaves
Method
In a food processor blitz the chillies, onion, garlic and ginger with 3 tbsp of water to create a smoothish paste.
Heat oil in pan or wok. When hot put in the mustard seeds and fenugreek seeds. Add the curry leaves, crushing as you go. The spices will crackle and pop as they heat up. Leave them for a few seconds and turn down the heat.
Add the blitzed onion mixture and cook on a low heat without browning. If it starts to catch and go brown you can add a dash of water. Keep stirring the mixture. You want the 'fumes' of the onion to cook away.
Add the turmeric and crushed peppercorns and stir before adding the coconut milk and 1/2 can of cold water.
Simmer away, stirring occasionally until you have a nice, reduced and thickish sauce. If it gets too thick you can add a little more water. I usually simmer for maybe 30-45 minutes to intensify the flavours. This is where you can stop if making ahead of time.
Then when ready to serve add the prawns to the sauce and cook until both are hot.
Turn off the heat and stir in the lime juice.
Stir in the fresh coriander leaves.