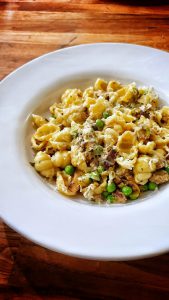 Following the success of the spicy sausage pasta recipe on my blog I've decided to share my herby sausage pasta recipe. It's my original sausage pasta recipe which I've been cooking for years. Comforting, full of flavour, economical and excellent for a lazy leftover lunch the next day. Also great for cooking on a camping trip.
Serves 2 to 3
Ingedients
200g pasta (preferably orecchiette, conchiglie or lumache – you're looking for something that's going to scoop up the pasta sauce)
1 tsp olive oil
6 herby sausages, skinned and broken up (e.g. pork and herb, Lincolnshire)
1 tsp dried tarragon (optional)
1 large clove garlic, finely chopped or crushed
1 leek, finely sliced (you can move with the seasons swapping the leek for grated courgette in the summer months)
10-12 mushrooms, thinly sliced (button and/or chestnut)
1 tbsp concentrated chicken stock or half a chicken stock cube
juice of a quarter of a lemon
1 tsp grain mustard
1 tsp Dijon mustard
1 cup peas
salt and pepper
grated cheese of your choice for topping (optional)
Method
Start by putting a large frying pan on a high heat and the pasta on to boil, cooking for the time stated on the packet.
Once the frying pan is hot add the oil and sausage meat. Using the back of a wooden spoon, break up the sausage meat some more, then leave to brown without stirring.
Season with pepper and add the tarragon, if using it. Stir and break up the sausage meat again, then leave to brown some more.
Turn down the heat, add the garlic and leek then stir and leave to cook gently for a few minutes until the leek has softened. You don't want to brown the leek at all, just soften it so that it releases its water and starts to break down into the sauce as we continue cooking.
Throw in the mushrooms, stir and leave to soften. Stir every so often until the mushrooms are cooked.
Add the chicken stock, lemon juice and mustards. Stir well to combine and add 50ml of cold water to help create more of a sauce.
By now, your pasta is probably cooked. Drain it but reserve some of the pasta water.
Add the peas to the sauce. They only need a couple of minutes to cook. Taste for seasoning and add salt and more pepper if you need to.
Throw in the pasta and combine with the sauce. Pour in a few spoons of the reserved pasta water to help the sauce and pasta come together and to create a silky consistency.
Serve in big bowls topped with grated cheese.