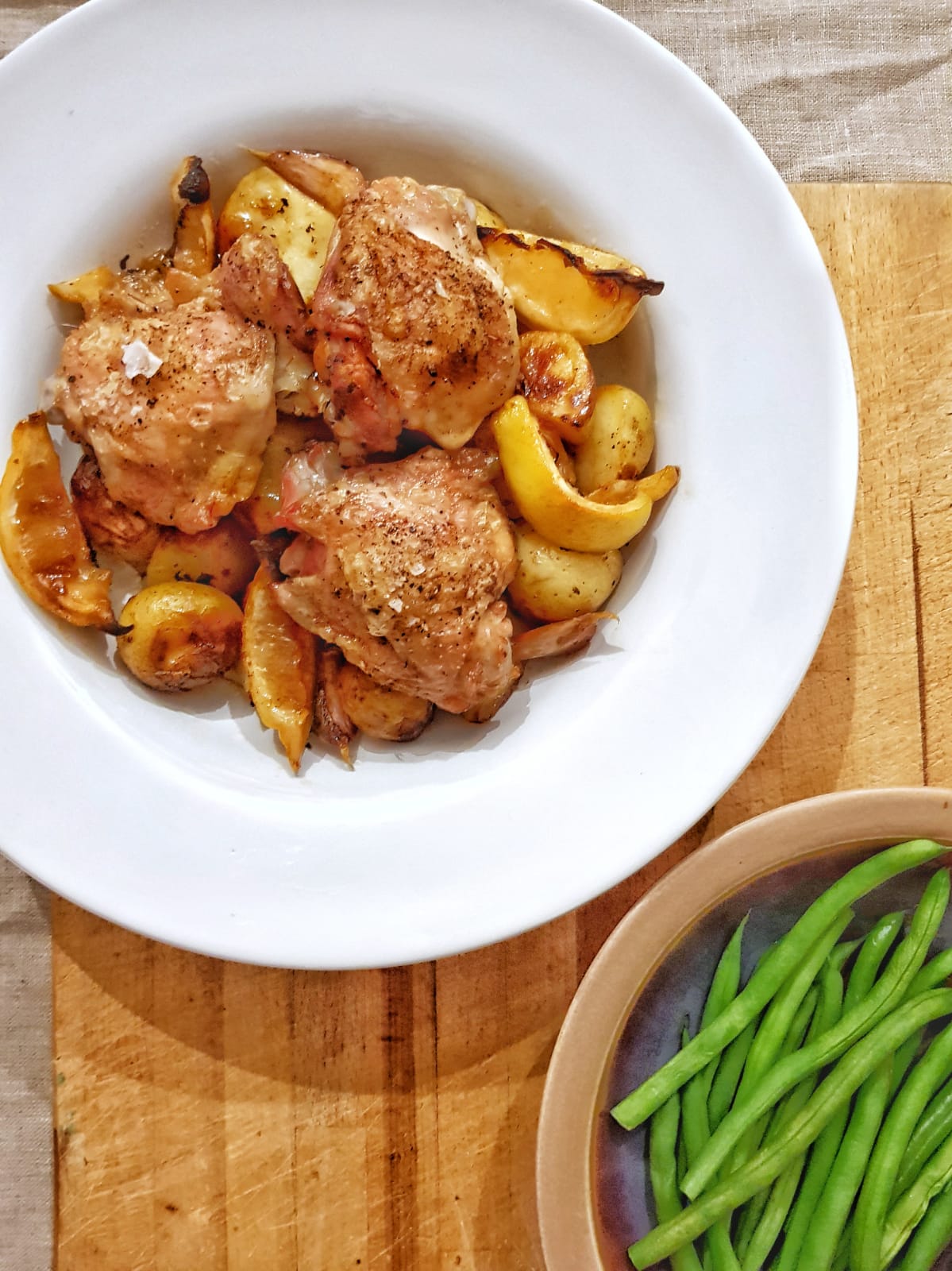 Tangy, zesty and great for giving you a lift from winter, wet summer days or post-holiday blues.
A very easy recipe requiring a small amount of preparation followed by time for it to do its thing in the oven whilst you relax or get on with whatever needs doing.
Serves 2
Preparation time: 5-10 minutes
Cooking time: 1 hour 10 minutes
Ingredients
4 chicken thighs
10 small waxy potatoes, cut into quarters slicing along the length of the potato
1 onion, cut into 8 wedges
6 fat cloves garlic, left whole with the skin on
1/2 tsp dried oregano (optional)
Salt and pepper
Olive oil
1 lemon, cut into 6 slicing along the length of the lemon (preferably unwaxed)
100-200ml water or chicken stock (I used concentrated chicken stock from a bottle mixed with water)
Method
Pre-heat the oven to 200 degrees.
Put the chicken thighs, potatoes, onion and garlic  in a roasting try. Season with the oregano (if using), salt and pepper. Drizzle over a good glug of olive oil and squeeze some of the juice from the lemon slices into the tray and then them throw in.
Get your hands in to make sure everything is coated. Turn the chicken skin side up then tuck the lemons, potatoes, onion and garlic under and around.
Bake in the oven for 40 minutes. Remove and turn the oven down to 180 degrees.
Turn the potatoes over. Pour in 100ml of water or chicken stock and return to the oven for a further 20 minutes.
Check the seasoning and whether more liquid is needed, there needs to be enough for everyone to have a little sauce. You might need to pour a little more water or stock into the tray before returning to the oven for another 10 minutes.
Serve with green beans tossed in garlic and olive oil or a side salad or maybe even some greens.