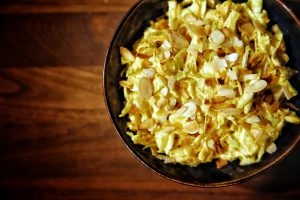 Serves 4
Ingredients
1/2 white cabbage, finely shredded
1/2 onion, finely sliced into half moons
2 carrots, grated
2 tbsp flaked almonds
2 heaped dessert spoons mayonnaise
lemon juice
1 tsp garam masala
curry powder
Salt and pepper
Method
In a dry frying pan on a low heat, lightly toast the almonds until they are golden. Remove from the pan and set aside.
In a large bowl make the curried mayonnaise mix. Put the mayonnaise in the bowl and start by adding 2 heaped teaspoons curry powder, the garam masala, a pinch of salt, a good grinding of pepper and a squeeze of lemon juice. Mix and taste.
Add more curry powder, lemon, juice, salt, pepper or garam masala to taste. There's no right or wrong, just how you like it.
Once you're happy with the curried mayonnaise, tip the vegetables into the bowl and coat well before stirring through the almonds.
Leave to sit for about 30 minutes before serving. You can also make it well in advance and leave it covered in the fridge until you're ready.