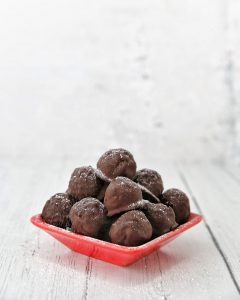 Each Christmas I like to prepare some goodies to take with me wherever I might be headed to see family and friends. Not having a sweet tooth I don't tend to indulge in these sweet treats but Christmas just isn't the same without filling the house with smells of spices and pastry so I can never resist making something. It's also one of the few times a year you'll see me baking!
There's always going to be an abundance of mince pies and Christmas pudding around at this festive time of year so I like to try and find alternative ways of presenting the same old ingredients to keep them exciting and people coming back for more. So, this year I've made candied peel, mincemeat palmiers and Christmas pudding truffles.
I bought a Christmas pudding especially but you could make this with any leftover Christmas pudding, adjusting how much of the other ingredients you add depending on how much you have left.
Makes around 30
Ingredients
2 tbsp chopped hazelnuts, toasted (optional)
zest of an orange, finely chopped
1 tbsp cognac (or whatever Christmassy spirit you have to hand and fancy, or if children will be eating you could use some orange juice, some of the syrup from the stem ginger or just leave this out)
1 piece stem ginger (in syrup), finely chopped
400g (approx.) Christmas pudding, cooked according to instructions
1 tbsp cocoa powder mixed with 1 tsp ground cinnamon
150g good quality dark chocolate (70% cocoa solids)
Method
Prepare a baking tray by lining with greaseproof paper.
Put the hazelnuts, orange zest, cognac and stem ginger in a bowl.
Once the Christmas pudding is almost completely cool, add to the bowl with the other ingredients breaking it up as you go.
Combine the ingredients well then take small amounts of the mixture and roll into truffle sized balls. Place on the tray as you work.
Roll the truffles in the cocoa powder and put back on the tray as you work through them.
Melt the chocolate in a bowl over a pan of gently simmering water making sure the bowl doesn't touch the water.
Pick up a truffle using a skewer, cocktail stick or even pointed chopstick and dip in the chocolate. Return to the tray, gently removing it from the stick with the aid of a teaspoon. This is the trickiest bit but you'll soon get into your stride.
Once you've got all the truffles coated put the tray in the fridge until the chocolate is set. This takes around 30 minutes.
Lick out the bowl whilst you're waiting to package up the truffles/tuck in (delete as appropriate)!