In need of comfort food after a hard week of work, wedding planning and packing, with only minimal equipment left and a few bits in the freezer to eat up before Tuesday's move, I set to work preparing a simple, satisfying one tray supper. Bliss!
Serves 2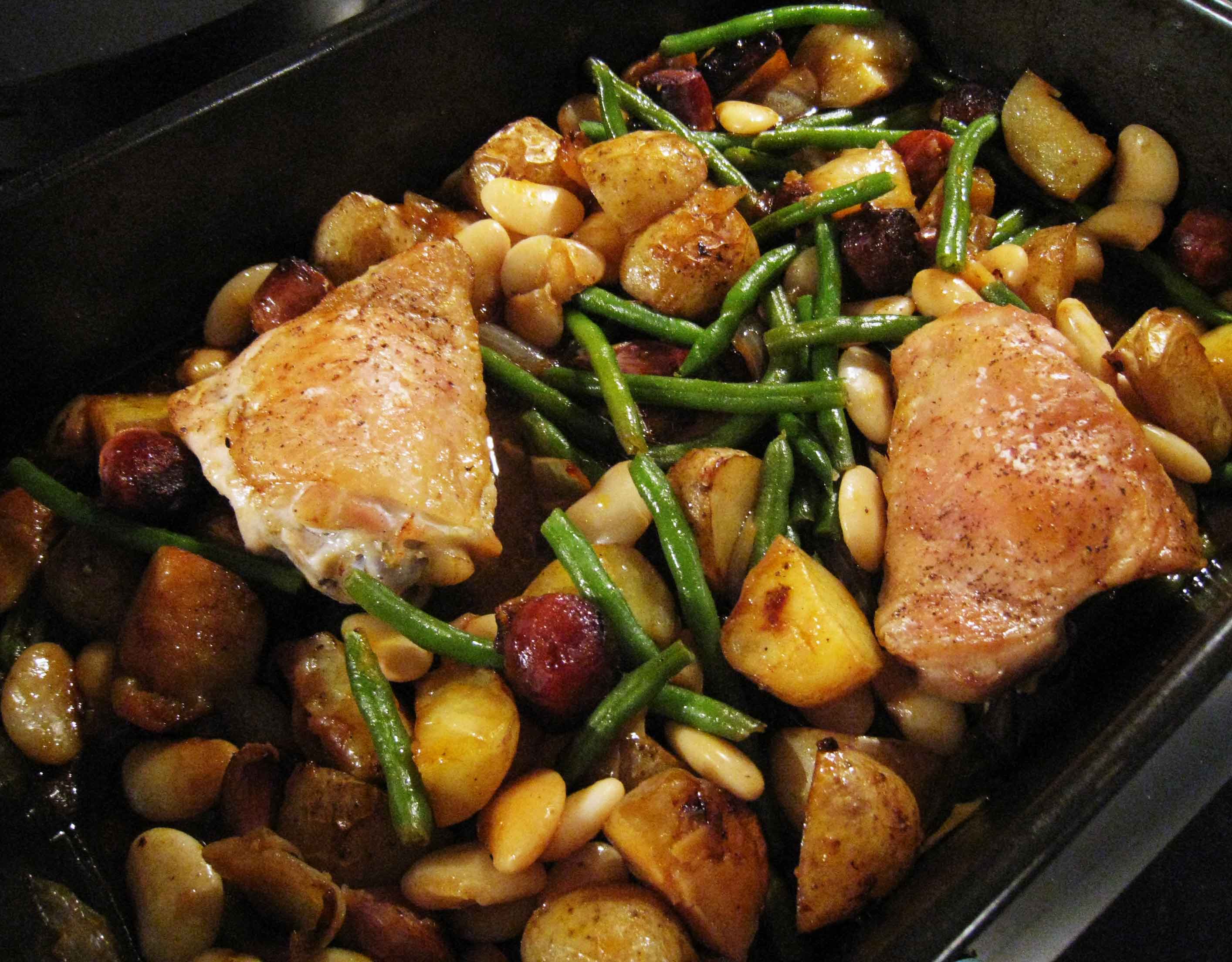 Ingredients
1 large onion, cut into big chunks
4 cloves garlic, skin on
6-8 medium-sized new potatoes, washed and quartered
1 tbsp olive oil
2 cooking chorizo, cut into large chunks
2 chicken thighs, bone in and skin on but trimmed of any excess skin and fat
100ml chicken stock
splash of sherry vinegar
1 small tin butter beans, drained
handful of green beans (I used frozen but you can use fresh)
salt and pepper
Method
Pre-heat the oven to 200C.
Put the onion, garlic and new potatoes in a roasting tray. Pour over the oil and coat the ingredients.
Place the chorizo in and around the potatoes and onion and pop the chicken on top, skin side up.
Season with salt and pepper and bake in the oven for around 45 minutes until the chicken skin is crisp and golden and the chicken is cooked but still moist. You can check on it half way through cooking and mix the ingredients around a bit so that they become evenly roasted but make sure the chicken is still skin side up.
Remove from the oven, pour in the stock and a splash of sherry vinegar. Add the butter beans and green beans and give it a stir. The chicken should still be skin side up.
Turn the oven off but put the tray back in for 5 to 10 minutes to allow the beans to heat through before serving.