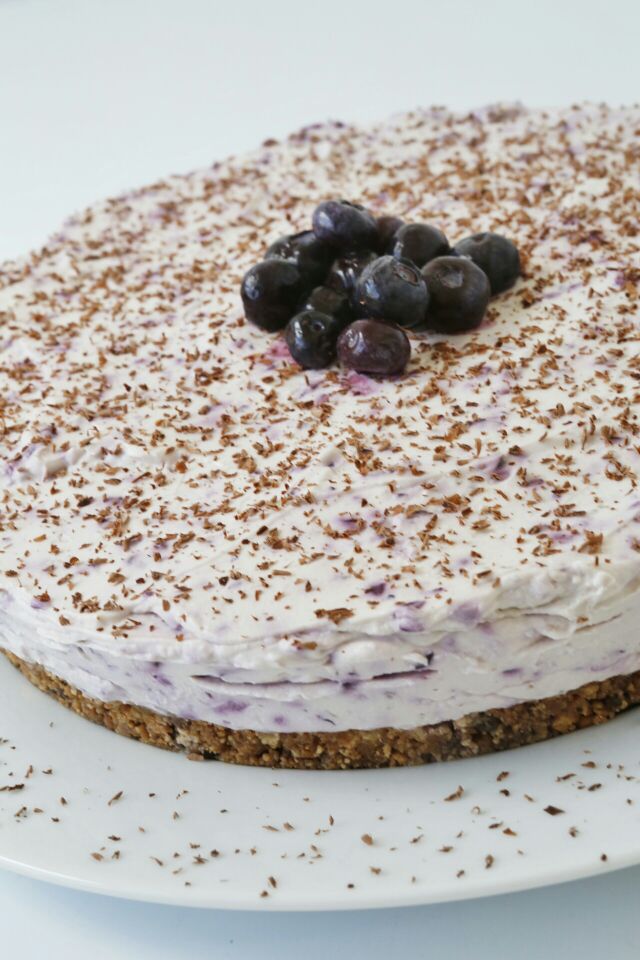 It needs no introduction!
Serves 2
Preparation time: 30 minutes
Setting time: 3 hours minimum
Ingredients
200g chocolate chip cookies
60g unsalted butter, melted
300ml double cream
200g frozen blueberries, defrosted
600g cream cheese
50g icing sugar
1 tsp vanilla extract
1 square (10g) dark chocolate
Method
Line the base and sides of a 20cm loose-bottomed or springform tin with baking parchment. You can use little smears of butter to help the paper stay in place.
Put the cookies in a food processor and pulse until they turn to crumbs. You could also put them in a freezer bag and crush with a rolling pin. Tip into a bowl and coat well with the melted butter.
Put the cookie crumbs into the tin and press down firmly with a spoon to create an even base. Place the tin in the fridge to cool and firm up.
Pour the cream into a large bowl and whip until soft peaks form.
Set a few blueberries aside for the garnish and put the remainder in the food processor with the cream cheese, icing sugar and vanilla. Blitz until the blueberries have broken down and all the ingredients are combined.
Transfer the blueberry and cream cheese mixture into the bowl with the cream. Gently fold the cream into the blueberry and cream cheese mixture until well combined.
Spoon the mixture onto the cookie base. Smooth the top of the cheesecake down with the back of a spoon or spatula.
Leave to set in the fridge for at least three hours.
Bring the cheesecake to room temperature about 30 mins before serving. Remove from the tin and transfer to a serving plate.
Decorate with the blueberries you set aside and grate over the chocolate.