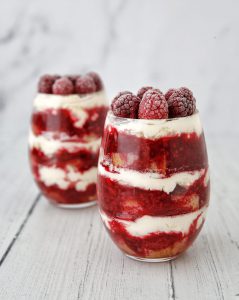 Taking inspiration from my favourite dessert, tiramisu, this is my family-friendly raspberry and orange notamsu. I could make a tiramisu and not allow the children to eat it but apparently that's not fair?!
I love the combination of raspberry and orange. I know they aren't in season at the same time and that's why I have a stash of frozen fruits in the freezer.
Now, give me some privacy please while I sit here and lick the bowl clean!
Serves 4
| | |
| --- | --- |
| Ingredients | Equipment to have ready |
| A bag of frozen raspberries (350-400g) | Medium sized bowl |
| 3 heaped tsp icing sugar | Small bowl |
| 1-2 shots Raspberry vodka/liqueur (optional) | Large mixing bowl |
| 300ml double cream | Balloon whisk or electric hand whisk |
| 150- 200ml orange juice | Spoons |
| 1-1.5 pack of ladyfingers/savoiardi biscuits/sponge fingers | Serving dish |
Method
Transfer the frozen raspberries to a medium sized bowl and take out some whole, better looking ones to set aside for decoration. You can store them in the freezer until you need them.
Stir through the icing sugar and leave to defrost.
Once defrosted, pour in the raspberry vodka/liqueur, if using, and squash the raspberries using the back of a spoon to turn it into more of a puree.
Pour the double cream into a large mixing bowl and whisk until firm.
Pour the orange juice into a small bowl.
Soak the fingers in orange juice and create a layer in bottom of your serving bowl. Drizzle over a little more juice to ensure they're thoroughly soaked.
Spread half the raspberry puree over the top followed by half of the cream.
Repeat with another layer of soaked fingers, raspberry puree and cream.
Decorate with the reserved frozen raspberries.
Cover and leave it in the fridge for a couple of hours before eating.