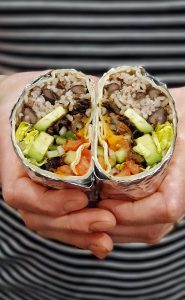 Makes 4
| | |
| --- | --- |
| Ingredients | Equipment to have ready |
| Olive oil | Chopping board |
| 1 large red onion, cubed | Sharp knife |
| 1 large sweet potato, cubed | Baking trays x2 |
| 1/2 tsp sweet smoked paprika | Teaspoon measure or a teaspoon |
| 500g mushrooms (mixed chestnut and button) | Small mixing bowl |
| 1/4 tsp garlic powder | Large mixing bowl |
| 1/4 tsp chilli powder | Two forks |
| 1/2 tsp ground cumin | |
| 1/4 tsp ground cinnamon | |
| 1/2 tsp ground coriander | |
| 1/2 tsp sweet smoked paprika | |
| 1/4 tsp dried oregano | |
| 1/2 tbsp maple syrup | |
| 1 portion rice | |
| 1/2 tin black beans | |
| 1 avocado, sliced | |
| Few leaves of lettuce, shredded | |
| 1/2 red onion, finely chopped | |
| 1/3 cucumber, cut into small cubes | |
| 2 tomatoes, seeds removed and flesh, cut into small cubes | |
| 1/2 lime | |
| Couple of handfuls fresh coriander, chopped (optional) | |
| Salt and pepper | |
| 4 tortilla wraps | |
Method
Pre-heat the oven to 180C (fan).
Put the cubed red onion and sweet potato on a baking tray, drizzle with a little olive oil, sprinkle over 1/2 tsp sweet smoked paprika and season with salt and pepper. Mix to coat the onion and sweet potato then bake in the oven for around 30 minutes, until the onion is caramelised and the sweet potato is brown and soft.
Using two forks, shred/pull the mushrooms. You put the mushroom down on the board, hold it with the prongs of one pork and pull at it with the prongs of the other fork. It is nice to have varying sizes of mushroom.
Put the mushrooms in a large mixing bowl. Add the garlic powder, chilli powder, cumin, cinnamon, coriander, paprika, oregano and maple syrup. Season with salt and pepper and drizzle over a little olive oil. Coat well and spread out onto a baking tray.
Bake in the oven until the liquid has evaporated and they dry out and crisp up, around 20-30 minutes.
Meanwhile, mix the rice and black beans together and cook the rice according to the instructions on the packet.
Mix together the red onion, cucumber and tomato in a small mixing bowl. Squeeze over the lime and season with salt and pepper. Stir through the coriander, if using.
When the sweet potato, onion and mushrooms are cooked, remove from the oven and warm up the tortilla wraps. Then you're ready to build your burrito!