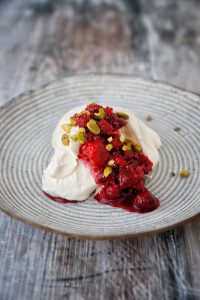 Eggs are one of the most fascinating ingredients I cook with – the changes that happen when you cook them in different ways, their ability to 'glue' other ingredients together and, most mind blowing of all, the way an egg white can increase in size so dramatically, transform from liquid to solid just by whisking, and produce a most magnificent and magical dessert – a meringue.
As carbonara features regularly on our meal plan, there are often egg whites left over, which I keep in the freezer. Sometimes I use these for flour, egg and breadcrumbing and other times we'll enjoy these orange meringues for dessert with cream, raspberries, pistachios and dark chocolate.
Any leftover meringues can be kept in an airtight container and should keep for up to two weeks.
Serves 6
| | |
| --- | --- |
| Ingredients | Equipment to have ready |
| 2 medium egg whites (frozen ones work well) | Large mixing bowl |
| 100g sugar | Electric hand whisk (or balloon whisk and lots of energy!) |
| Finely grated zest of 1 orange | Fine grater |
| | Baking tray lined with greaseproof or a silicone sheet |
| To serve: | Dessert spoon |
| Raspberries (a bag of frozen raspberries is great if you can't get fresh) | |
| 300 ml double cream, whisked to soft peaks | |
| 1 square dark choc, grated | |
| 2 tbsp pistachios, crushed | |
Method
Pre-heat the oven to 110C.
Put the egg whites in a large mixing bowl and whisk until you reach firm peaks. That is when you lift the whisk out of the egg white, you see little mountain peaks appear and they remain in place. You can also tip the bowl upside down and it not tip out!
Mix the orange zest into the sugar.
Add a spoonful of sugar to the egg white and whisk to combine.
Keep adding spoonfuls of sugar gradually as you whisk.
The egg whites will turn thick and glossy when ready.
Scoop a dessertspoon of egg white and put it on the tray, trying to make a circle.
Repeat with the rest of the mixture until you have created 6 meringues.
Bake for around 1 ½ to 1 ¾ hours. They will be crisp on the top and bottom when done and golden in colour.
Turn the oven off and leave them in there to cool.
When ready to eat, serve with the cream and raspberries, sprinkling over some pistachios and chocolate.