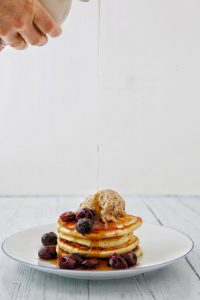 Make a weekend brunch classic more substantial with the addition of oats.
Serve with frozen blueberries, which you can simply defrost or heat in the microwave for a few minutes until jammy.
Once frozen (separated with greaseproof paper), these make brilliant quick weekday breakfasts, after-school snacks and puddings. You can simply turn the toaster to the lowest setting and pop a pancake in to defrost and warm through.
Makes around 16
| | |
| --- | --- |
| Ingredients | Equipment to have ready |
| 165g self-raising flour | Large mixing bowl |
| 1 1/2 tsp baking powder | Whisk |
| 1 tbsp sugar | Teaspoon and tablespoon measures |
| Pinch salt | Measuring jug |
| 3 eggs | Non-stick frying pan or cast iron skillet |
| 1 tbsp olive oil or melted butter, plus extra oil for frying | Weighing scales |
| 210 ml milk (or 200 if large eggs) | Baking tray |
| 100g oats | Ladle, 1/4 cup measure or large spoon |
Method
Pre-heat the oven to 120C Fan.
Put the flour, baking powder, sugar and salt in a large mixing bowl and gently whisk them around to combine and get rid of any lumps from the flour.
Crack in the eggs and start to whisk then pour in the oil or melted butter and gradually pour in the milk, whisking as you go.
Once you have a smooth, thick batter, stir through the oats and put it to one side for 30 minutes. Bubbles will start to form in the batter.
Heat up the frying pan. You want it really hot and then turn down the heat to maintain a steady heat without risk of burning.
Pour a small drizzle of oil into the pan and coat the base of the frying pan or skillet. You just need to grease the pan, we're not frying the pancakes in oil.
Depending on the size of your pan, you'll be able to cook two or three pancakes at a time about 10cm in diameter. I use just less than a quarter cup measure.
Cook until the pancake mixture bubbles and starts to set on top then flip and cook for a few minutes on the other side. You will need to monitor the heat of the pan since the hotter it gets the quicker they brown before being ready to flip.
Transfer to a baking tray and keep warm in the oven until you've cooked all the pancakes and are ready to eat.