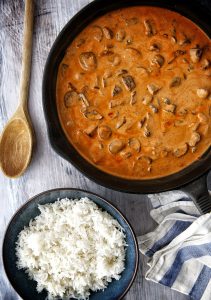 My mushroom stroganoff is very quick to pull together as well as comforting to eat. I like to serve it with rice but it works well with pasta too. Spaetzle would be fab if you have the energy to make them or can get hold of them – Lidl and Aldi sometimes have them.
You could add some cubes of frozen spinach at the end, just defrosting and warming through so that it keeps its vibrant green colour.
You could also swap or combine the mushrooms with chicken, pork or beef.
Serves 2
| | |
| --- | --- |
| Ingredients | Equipment to have ready |
| 2 tbsp olive oil | Chopping board |
| 300g chestnut mushrooms, quartered | Sharp knife |
| 1 clove garlic, finely chopped | Frying pan |
| 1 1/2 tsp paprika | Teaspoon measure or teaspoon |
| 1 tsp sweet smoked paprika | |
| 250ml vegetable stock | |
| 150ml creme fraiche | |
| Salt and pepper | |
Method
Heat the frying pan over a high heat. Add the oil and cook the mushrooms until the liquid from the mushrooms has evaporated.
Turn down the heat and add the garlic, cooking for a minute or two whilst stirring so it doesn't burn and until you can no longer smell the raw garlic.
Add a good grinding of black pepper and the paprikas, stir well.
Add the stock and bring to the boil before simmering gently for 10 minutes.
Remove the pan from the heat as you stir through the creme fraiche, then put it back on the heat to simmer for another 5 minutes before checking the seasoning and serving.