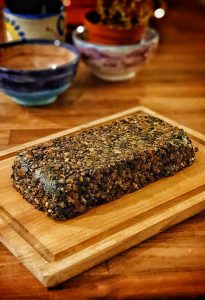 If you want to make this nut loaf look really special, you could remove the stalks from three leaves of cavalo nero, steam them in a little water until pliable, dry on kitchen towel and then use them to line the base and sides of the tin before packing in the mixture. Fold the ends of the leaves over the top of the loaf mixture.
Serves 6
| | |
| --- | --- |
| Ingredients | Equipment to have ready |
| 2 tbsp olive oil | Chopping board |
| 1/2 onion, finely chopped | Sharp knife |
| 2 cloves garlic, finely chopped | Large frying pan |
| Sprig of thyme, leaves stripped | Tablespoon measure or a tablespoon |
| 500g mushrooms mix of button and chestnut, sliced | Food processor |
| 100g cavalo nero, stalk removed and shredded | Loaf tin |
| 1 1/2 tbsp nutritional yeast | Greaseproof paper |
| 65g oats | Saucepan |
| 100g puy lentils, cooked, drained and rinsed under cold water | |
| 50g mixed chopped nuts | |
| Salt and pepper | |
Method
Heat 1 tbsp of oil in the frying pan over a low heat and sweat the onion until soft and translucent. Add the garlic and the thyme and cook for another few minutes, stirring, until the garlic fumes have dissipated. Transfer to the food processor.
Turn up the heat under the frying pan and heat the other 1 tbsp of oil. Tip in the mushrooms, season with salt and pepper and fry until the water has been released and then evaporated. It is important that the liquid has been cooked off otherwise you'll have a soggy nut roast. Transfer to the food processor.
Put the frying pan back on a medium heat and add the cavalo nero with 50ml water. Stir occasionally and cook until the cavalo nero has steamed and the water has evaporated. As with the mushrooms, it's important that the liquid has been cooked off to prevent a soggy nut roast. Leave in the pan until needed.
Add the nutritional yeast oats to the food processor, season with a little salt and pepper then blitz the mushrooms until almost completely broken down. Add the cavalo nero and blitz until the mushrooms are mostly a puree.
Stir through the lentils and nuts then pack into a loaf tin lined with greaseproof paper.
Refrigerate for at least an hour. The nut loaf can be made a day in advance and kept in the fridge until you're ready to cook it.
When you're ready to cook the nut loaf, pre-heat the oven to 180C.
Bake for an hour and then allow to sit for at least 15 minutes before turning the loaf out of the tin and serving.