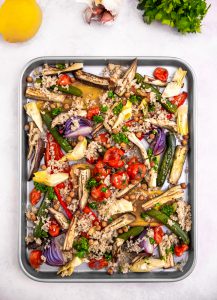 You can't beat a tray bake for its ease of preparation. A little bit of chopping and let the oven do the work.
Any leftovers make for a perfect lunch, eaten at room temperature.
The zesty, herby salsa verde brings a freshness and vibrancy to the dish and the spicy chickpeas a welcome crunch. Keep the leftover chickpeas in an airtight container for snacks another day.
Serves 2
Ingredients
60g quinoa (raw weight)
400g tin of chickpeas, drained and rinsed
½ tsp hot smoked paprika
2 peppers, halved and seeds removed
2 medium courgettes, cut into fat sticks (or 8 baby ones left whole)
1 aubergine, cut into fat sticks
14 baby tomatoes
1 red onion, cut into quarters
4 cloves of garlic, left whole and in their skins
Handful of parsley
Handful of basil leaves
1 lemon
1/2 jar marinated artichokes, drained
Olive oil
Salt and pepper
Method
Rinse the quinoa in a fine sieve until the water runs clear and cook according to the packet instructions. Set aside.
Preheat the oven to 180C.
Tip 3/4 of the chickpeas onto a baking tray. Coat with a tiny amount of olive oil, the hot smoked paprika, salt and pepper.
Bake on the bottom shelf of the oven for 40 minutes, or until crisp.
Place the peppers, courgette, aubergine, tomatoes, onion and garlic on a large baking tray. Drizzle with a little olive oil and sprinkle over a little salt and pepper.
Roast at the top of the oven for 30 minutes, removing the garlic and mixing the quinoa through the vegetables after 20 minutes.
Chop the parsley and basil. Zest the lemon and remove the garlic from the skins. Chop the herbs, lemon zest and garlic together until very fine. Transfer to a bowl and squeeze in a little lemon juice. Mix together.
When the vegetables come out of the oven, stir through the remaining chickpeas and artichokes to warm slightly.
Finish with a scattering of the crunchy spiced chickpeas (you don't need them all) and the salsa verde.