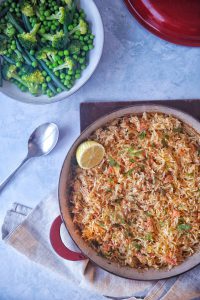 I love it when a dish is that perfect combination of quick and easy to make, satisfying to eat with fresh flavours and leaving me with limited washing up.
This recipe also caters for my children who'll resist eating meals where the green veg they're still learning to like are combined with the parts of the meal they do like. If yours aren't so fussy, you could stir your chosen vegetables into the pilaf before serving.
Optional embellishments which would work really well with this dish are toasted flaked almonds, chopped parsley and sliced boiled egg.
You could swap the smoked salmon for hot smoked salmon, smoked trout or plain cooked salmon or trout fillet.
Serves 4
| | |
| --- | --- |
| Ingredients | Equipment to have ready |
| 1 tbsp olive oil | Chopping board |
| 1 small leek, halved lengthways and finely chopped | Sharp knife |
| 2 cloves garlic, finely chopped | 1/2 tablespoon measure |
| 1 lemon (zest and a squeeze of juice) | Measuring jug |
| 1/2 tbsp pul biber/Aleppo pepper (or other mild chilli flake) | Ovenproof shallow casserole with a lid |
| 240ml basmati rice, rinsed | Fork |
| 480ml chicken stock | |
| 1 pack (approx. 120g) smoked salmon trimmings | |
| Steamed green beans, runner beans, broccoli, peas or other green veg | |
| Black pepper | |
Method
Heat the oven to 180C (Fan).
Put the pan on a low heat to warm up and add the oil. Tip in the leek and gently sweat until soft but not brown.
Now add the garlic and a good grind of black pepper and cook, whilst stirring, until the strong smell of raw garlic has gone.
Stir through the lemon zest and pul biber before tipping in the rice and coating the grains in all the lovely flavours.
Pour in the stock, stir and bring to the boil.
Put the lid on and transfer to the oven to cook for 10 minutes.
Add the smoked salmon and gently mix through the rice using a fork.
Put the lid back on and cook in the oven for another 10 minutes.
Remove from the oven and add a squeeze of lemon juice to the pan. You need to work very quickly so you don't let all the steam escape.
Let it sit for 5 mins before fluffing the rice up with a fork and serving with your chosen green veg.